Retired Police Chief Arrested At OWS Protest Tells Chris Hayes: NYPD Close To Being 'Wall Street Mercenaries'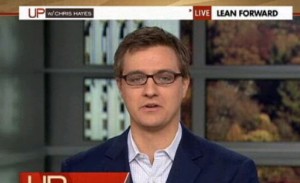 This week was a breaking point for Occupy Wall Street protestors in New York, after Mayor Michael Bloomberg ordered the police to evacuate Zuccotti Park. There were some acts of aggression not covered much by the mainstream media, but on Thursday, there were several minor altercations, including the arrest of Ray Lewis, a former Philadelphia police captain who was arrested on charges of assault while in uniform. Today Lewis appeared on Chris Hayes' show to explain the circumstances of his arrest.
Lewis explained that after being retired for eight years, he was inspired by the actions of the protestors and how they were being fueled by social injustice, and he came down to participate in the protests on Monday.
Hayes wanted to know how Lewis felt the NYPD acted and what his personal interactions with them were like because, presumably, they might have treated him differently because he was in uniform. Lewis explained they actually treated him with the same professional conduct that they gave to the rest of the protestors in the area, and also took the opportunity to clarify that his earlier remarks about the NYPD were taken out of context, particularly by one news channel.
"I also want to make clear to everyone in the New York Police Department that my statements video was edited. Okay? And I knew that was going to happen. And one step I could take to try to minimize that from happening was to refuse any interviews with Fox News. And a Fox representative came up to me, I saw the 'Fox,' I said, 'You stay away from me, you're a big part of the problem.'"
Both Hayes and Lewis agreed that police all over the country have been too aggressive at times, including the incident earlier this week at UC Berkeley. Lewis explained one of the signs he was holding at OWS this week read "NYPD- Don't Be Wall Street Mercenaries," which he admitted made it sound like he believed they were already acting that way instead of expressing a worry that is what they would become, and apologized to the officers who misinterpreted it.
Watch the full segment below, courtesy of MSNBC:
Have a tip we should know? tips@mediaite.com
Josh Feldman - Senior Editor