Return Of Mr. Nice Guy: MSNBC's Ari Melber Talks To Mediaite About Rebranding Political Talk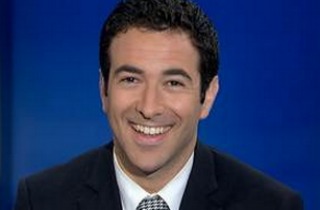 MSNBC newest host, Ari Melber, has worn many hats on his way to becoming a prominent political analyst. From a practicing lawyer, to an investigative reporter and editor, to the latest addition to MSNBC's The Cycle, Melber has carved out a niche as a left-of-center political analyst who skillfully presents controversial opinions and issues in a fashion that does not alienate his opponents. Melber sat down with Mediaite to discuss his approach to political commentary – an approach which has resulted in a relatively speedy rise to prominence.

Mediaite asked Melber about his good-natured approach to political dialogue which stands out in an increasingly acerbic cable news-talk landscape.
"I think politics is always about dialogue," Melber told Mediaite. "I think journalism ranges from dialogue to monologue, and there are times when different poles are necessary. But if you're serious about engaging a wide range of views from people who agree with you on most things to people who disagree with you on most things, then you want to be respectful and approachable as possible without giving up your core beliefs."
But does Melber's intentional withholding of the red meat that other cable news hosts regularly serve up frustrate his audience? Melber said that he almost never gets criticized for being too deferential to those who do not share his political philosophy. "When I get serious criticism – if I get serious criticism – it's about how I'm thinking and engaging in a topic," he noted. "I can't think of an example of someone saying 'you're too nice.'"
"I think the challenge for anyone in a visible industry, whether it's media, government, or political organizing, is to take serious criticism seriously, and not to live in the shadows of the noise and the concern trolls," added Melber.
RELATED: MSNBC Officially Welcomes Ari Melber As The Newest Member Of The Cycle
One could be forgiven for thinking that being a television host is a dramatic change from his previous role as either a practicing lawyer or an investigative reporter. Melber informed us that those roles are not only similar but complimentary.
"Good lawyering is usually cerebral and impersonally," he said. "You can convince a judge with a mastery of facts, detail, and precedent – not a story from the gut about how you feel a certain way."
"I think good political journalism is rooted in facts and precedent, but it swings for feeling," Melber observed. "Facts without feeling don't get you very far. Feelings without facts can send you far in the wrong direction."
Melber said, however, that much of the criticism the media is subject to in the modern era comes from what he calls the "understandable concern" that the media has fallen out of touch with the core needs of their audience and the civil society of which they are a part.
[There is a] lot of data that suggests public thinks congress and DC is broken and the economy isn't working for most people. Broadly, we see times when press covers boundaries of Washington as if that's the boundaries of public debate. The White House tours is a big issue, but public housing and the sequester's impact is not. Too much of the media's focus is on the Washington conversation over the impact on people lives is a problem.
Much of Melber's focus on how politics in Washington affects the lives of average citizens can be traced back to what Melber considers a defining moment in his political maturation.
"When the New York Times reported the depth of the warrantless surveillance of American citizens that was occurring under the past administration — and has been supported by this administration in the expansion of the national security state – that was one turning point where I remember, before reading that, I didn't think the political system would go along with something that so fundamentally contravenes the Constitution," Melber revealed. "I remember feeling like, 'wow, okay, the accountability checks aren't working.'
"I think, for many of us regardless of your political party, when we saw what was happening, we said 'that's not us. That's not America,'" he continued.
Melber said that he is deeply indebted to the production staffers who work tirelessly behind the scenes at MSNBC to create the polished production that viewers enjoy at home. He added that he is awed on a daily basis by the scope of the mission before of him, and of the accomplishments of the people who once strode the halls he walks today.
"From the top down, this is an organization that is committed to fact-finding and excellent news reporting, and it deploy journalists around the world who put themselves at risk," Melber said of the historic institution that is NBC News. "The media's political echo chamber focuses on certain parts more than others, but what most impresses me – and as anyone in this building will know – are the memorials for all the journalists who died while reporting. You cannot look at that and think about what that means without getting a strong perspective for where you fit in."
In the political commentary space which MSNBC occupies, Melber added that his employer deserves credit for expanding the definition of what was thought to be a successful model for cable news.
"MSNBC has been given a lot of well-deserved acclaim for expanding what is possible in terms of political policy and intellectual discourse in the country," Melber said. He noted that his network performs "deep analysis of federal and state policy that rivals anything else on TV. Period."
Like his predecessor, Steve Kornacki, Melber will certainly add to MSNBC's most unpredictable show with his own brand of civil, informative and analytical commentary.
> >Follow Noah Rothman (@NoahCRothman) on Twitter
Have a tip we should know? tips@mediaite.com