Reuters Reporter Once Held by Taliban Pleads for Caution in Judging Bergdahl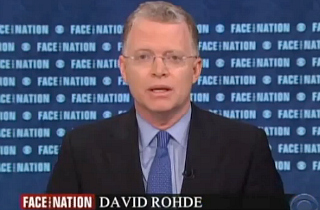 Appearing on CBS Face the Nation on Sunday, Reuters investigative journalist David Rohde urged caution among Americans in judging U.S. Army Sgt. Bowe Bergdahl based on the rumors swirling about the circumstances of his departure and captivity.
While working as a New York Times reporter, Rohde was abducted by the Taliban in Afghanistan back in 2008. After seven months in the mountains of Pakistan and Afghanistan, he found his way to freedom.
After asserting that he believes Bergdahl does have to answer for why he initially walked off his base in Afghanistan, Rohde pleaded for prudence from the American public:
I caution Americans. There's all these rumors that came out during my case and many were not true. It's really important to sort of wait and get the facts here. A lot of the reporting on this story has been way off and we need to hear from Bowe Bergdahl about what happened that night. And on another note, I still today, five years later, feel tremendous regret for going to an interview with the Taliban, getting kidnapped, and what I put my family through. Whatever caused Bowe Bergdahl to walk off that base — did he desert, did he have a mental breakdown — he will regret this for the rest of his life. I guarantee you.
Rohde told host Bob Schieffer that he has kept in contact with the Bergdahls and that they have been receiving death threats. "They are asking for time," he said.
Watch below, via CBS:
— —
>> Follow Andrew Kirell (@AndrewKirell) on Twitter
Have a tip we should know? [email protected]