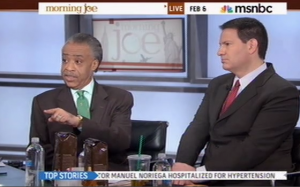 On Monday, the Morning Joe crew had something of a personal discussion on the White House's new birth control mandate, which holds that most employers would have to include contraceptives in their health insurance coverage, regardless of whether that employer happens to be a religious institution. The Catholic Church in particular has been vocal about its opposition to the mandate.
Host Mika Brzezinski — who happens to be Catholic — weighed in, saying that while "most people I know who are Catholics would not agree with me," she's no fan of the fact that the mandate includes religious institutions (it should be noted that the mandate applies to non-church religious employers who primarily employ people from other religions, not necessarily churches).
RELATED: Contraceptive Mandate Is Not About Religious Liberty, It's About Female Liberty
Her MSNBC colleague Al Sharpton, however, felt that while "the politics of it is tough," he doesn't think this was a "political decision." Host Joe Scarborough agreed, adding that it just "doesn't make sense, politically."
That said, "they're not telling them what they must do," Sharpton explained, "they're telling them what they can't ban."
As Brzezinski laughed, Scarborough leaned over to tell the Rev. Sharpton, "You just won't admit you're in a really tough position here… You can admit it on the air." He then turned it back to Brzezinski, asking her whether contraception — and abortion and the matter of voluntary sterilization — go "to the heart" of the Catholic Church's teachings.
"Absolutely," she replied. "It's black and white; it's what they believe to be true. I hate to get into some language here that can be, you know, seen as extreme, but they believe that abortion is murder, and they believe it as a fact." She also noted that, of course, individual Catholics don't always agree with the Church's official dogma and edicts.
Take a look, via MSNBC:
Have a tip we should know? tips@mediaite.com