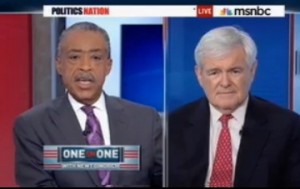 Among the great moments in Rev. Al Sharpton's epic interview with former Speaker of the House Newt Gingrich Tuesday night was a bit of pit-bull followup that was magnificent to behold. Gingrich was spinning a wonderful fairy tale about how he had liked the cut of Barack Obama's gib back in 2009, was feeling the inspiration and hope for a better tomorrow, and was all set to give him a chance, until the President's awful un-bipartisanship ruined everything. Then, Rev. Al turned him on a dime with a little thing called "the truth."
In this section of the interview, Rev. Al was discussing a passage from Robert Draper's Do Not Ask What Good We Do in which Gingrich participates in an Inauguration Night meeting with Republican Congressional leaders to plot their return to power, vowing to "show united and unyielding opposition to the president's economic policies."
Gingrich not only admitted to being at the meeting, he told Rev. Al that he was "glad and honored to be part of it."
He then tried to lay the meeting off as typical politics. "Don't you think that in 2001 when George W. Bush was being inaugurated, a group of Democrats got together and said 'how do we get the White House?'"
"No," Sharpton replied. "There is a qualitative difference between 'how do we get the White House,' and that we are committed tonight to block everything he does, we are going to be relentless and really care nothing about the fact that he was inheriting the worst economy since the depression, by a member of your party."
Rev. Sharpton had Gingrich and the Republicans dead to rights, there. Every opposition party works to regain their majority, but the priority is to govern, and to enact the best policies they can. If those policies work out, then people vote for you. That's how it works. The Republicans basically went on strike the night Obama was inaugurated.
Realizing how awful this made him look, Gingrich began his tale of enchantment. "Look, I said at the time that if he stuck with the — there were three speeches President Obama gave that were truly historic, and an enormous opportunity for him," he began. "The Manassas speech the last weekend before the election. The Grant Park speech election night. And his inaugural in — which was — which I said to Callista when we left — we were at the Capitol for the Inaugural, and as I left, I said, 'You know, if he sticks to the kind of moderation and bipartisanship he has been describing, he will split the Republican party, he will govern like Eisenhower and he will get re-elected. This is the inaugural day."
Awww, how sweet! Newt got a tingle up his leg! On Inauguration Day, this was, as he mentioned several times (it's important later in the story). So, what went wrong, Newt?
"The reason we were able to unify the party is he basically cut a deal with Harry Reid, Democratic Senate Majority Leader, Speaker Nancy Pelosi, and they ran through an $800 billion stimulus package with no Republican really being involved," Gingrich said. "In fact, no elected official even read the bill before it was voted on in the House. And I think that was the decisive mistake of the presidency."
Oh, so it was President Obama who ruined everything by being hyper-partisan. Then, Rev. Al did what so many Newt Gingrich interviewers have failed to do: pointed out how obviously full of shit he was. "Speaker gingrich, that night you were quoted as saying 'This begins the seeds of 2012, we are going to block him.' Mitch McConnell, Senate Minority Leader, said the one commitment was to stop the re-election of this president. If you were so blown away by those three speeches, you certainly sobered up by the time you got to that meeting that night. And he had just done the inaugural address."
With a grin, Gingrich performed a perfect 180. "Look, I — I thought," Gingrich hemmed, "I still think, in retrospect, he had an opportunity to outmaneuver us by being deliberately bipartisan and deliberately open."
That's really all you need to hear. President Obama could have outmaneuvered them by being deliberately bipartisan…by himself? By talking to a skeleton in a Newt Gingrich wig in the attic of the Bates Motel, doing both voices?
The full interview is chockablock with great moments like this, in which Rev. Al takes the next step that other interviewers failed to, perhaps because, unlike mainstream journalists, Rev. Al doesn't have to worry or care if someone will accuse him of being too liberal. He had the freedom to be right.
Here's the clip, from MSNBC:
Follow Tommy Christopher (@TommyXtopher) on Twitter.
Have a tip we should know? [email protected]