Rev. Al Sharpton No Longer Calls People "Punk F*ggots" But New Documentary Trailer Shows He Did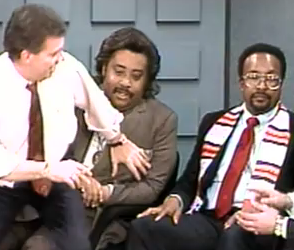 How times change. These days, you're more likely to find the Rev. Al Sharpton debating the alleged racism of the Tea Party on Fox News or meeting with the president at the White House.
Sharpton's grown into a grey haired mainstreamer, usually described as a "civil rights activist." Some of the cards from gay rights activists might be about to get lost in the holiday mail, however.

A just-released trailer for an upcoming documentary will not be a fun trip down Memory Lane for Sharpton. The Rev. Al appears as a young Brooklyn pastor on a TV talk show shouting down an audience member, as The Smoking Gun puts it:
Saying that he was "tired of them acting big," Sharpton told the unseen audience member, "You ain't nothing! You a punk faggot!" Gesturing for the Downey fan to come up to the stage and rumble, Sharpton added, "Now come on and do something." Since becoming a respected leader, Rev. Al has dropped the term "punk faggot" from his fiery verbal repertoire, records show.
The film, Évocateur, examines the earliest days of wild talk television, led by over-the-top 1980s shouter Morton Downey, Jr, whose chain-smoking and barely veiled threats of violence against guests and audience members alike made him the grandfather of a generation of trash TV.
In the trailer, talk show host Bill Boggs says Downey and Sharpton "saw something in each other they could use." Watch the trailer here (Sharpton bit comes in around 1:40):
Have a tip we should know? tips@mediaite.com