Rev. Al Sharpton: 'Nobody Watches Bill O'Reilly Or Me To Find Out The Weather'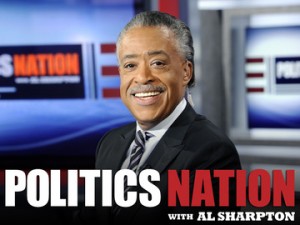 Rev. Al Sharpton recently celebrated his first anniversary as host of PoliticsNation, the 6pm offering in MSNBC's primetime lineup, and expressed pride at the show's success, both in the ratings, and at giving attention to issues that might otherwise have gotten much less attention. In part one of our exclusive interview, the Rev (as his colleagues affectionately call him) also talked about his conservative critics, unlikely dinner mates Newt Gingrich, Bill O'Reilly, and Sean Hannity, and the state of the too-close 2012 election.
That first year, which concluded with PoliticsNation delivering its best ratings ever, saw Rev. Al also entering the cable news bloodstream as part of the Trayvon Martin story, and joining his MSNBC network-mates in shining a light on voter ID laws, while also doing some great interviews with political figures, like his epic conversation with former House Speaker Newt Gingrich.
In an impromptu interview that took place in the cigar bar at Phil Griffin's anniversary party, Rev. Al looked back on that first year, and ahead to the future.
The Rev takes pride in giving voice to the voiceless. "We brought out voter ID first, Trayvon Martin first," he told me, "other issues, from the standpoint that everybody knows I'm an activist, but nobody watches Bill O'Reilly or me to find out the weather. They know we have opinions. At the same time, I welcome other opinions. I think that's where the future of cable television is gonna go."
Rev. Al is also proud of the makeup of his audience, which, he notes, has delivered the show a second-place finish most nights. "Americans, across demographics, watch the show," he says. "These kids are younger than me, and they watch the show."
The conservative media, particularly Breitbart.com and The Daily Caller, have been harsh, somewhat deranged critics of Sharpton, but he says "I take it as a compliment."
"Fox, I am certainly antithetical to that," Rev. Al says, "but I go on Joe Scarborough, who's a conservative. I don't take it personally. Anytime you can only talk to people that agree with you, you're insecure about what you believe."
Check out part one of our interview, and find out how that Newt Gingrich interview came about, what the Rev thinks the Obama campaign should do differently, and whether he thinks President Obama has been vocal enough on the issue of voter ID:
Follow Tommy Christopher (@TommyXtopher) on Twitter.
Have a tip we should know? tips@mediaite.com