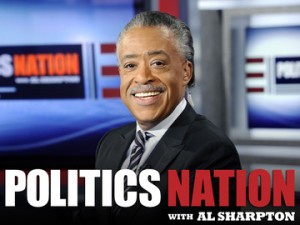 Rev. Al Sharpton recently celebrated his first anniversary as host of PoliticsNation, and took some time  out during Phil Griffin's fete to talk about the challenges and accomplishments of that first year, but in the second part of our exclusive interview, I asked the Rev. about the right's attempts to connect him with the New Black Panther Party, the media's reticence to question Mitt Romney's connection to an organization that discriminated against black people until 1978, and the Rev's favorite scripture.
The New Black Panthers exist for two main reasons; to scare panicky white people, and to be used by the right to smear black leaders whom they don't like. That first mission is one that the NBPP shares with the right-wing media, but not so the latter.
While President Obama ha been the lucky main  recipient of right-wing lies about the tiny, discredited paramilitary group, conservatives have also tried to conflate them with Reverend Al, most recently in relation to the Trayvon Martin case. Rev. Sharpton responded to those attempts by pointing out that the New Black Panthers have wildly divergent goals from his own.
I also asked Rev. Al about the media's reticence to question Republican presidential candidate Mitt Romney's membership in an organization which, until 1978, discriminated against black men as a matter of policy. The Church of Jesus Christ of Latter Day Saints changed their policy prohibiting black men from entering their priesthood when Mitt Romney was 31 years old, yet Romney has yet to be asked what he ever did to oppose that policy, or even to say whether he thought the policy was wrong (he has only said he was glad it was changed).
Watch the rest of our exclusive interview here, and check out Rev. Al on PoliticsNation weeknights at 6pm, on MSNBC:
Follow Tommy Christopher (@TommyXtopher) on Twitter.
Have a tip we should know? tips@mediaite.com