Rev. Al Sharpton Reflects On Past Mistakes Just Two Days Before Getting MSNBC Gig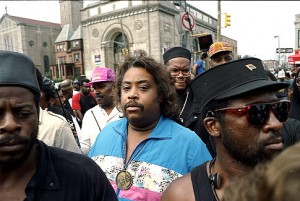 Yesterday Reverend Al Sharpton was officially named host of PoliticsNation, MSNBC's new 6PM show. The announcement was met with certain hesitation, questions raised regarding his strained history with teleprompters and, more seriously, his journalistic integrity. Yesterday it was pointed out by NPR's David Folkenflik that Sharpton himself was perhaps wondering if he was up to the job when he penned this op-ed from last Sunday's New York Daily News.
The op-ed, titled "What Crown Heights taught me: Al Sharpton reflects on race, rhetoric and rage that split the city," explores the mistakes Sharpton feels he made during the early 1990's race riots in the Crown Heights neighborhood of Brooklyn. Joining the protests after receiving a phone call from the father of a 7-year-old boy who had been killed, Sharpton admits that when he got to Crown Heights, he "did not know the full volatility of the situation." And as the father described to him the violence that at stemmed from his son's death, Sharpton says he "was outraged; I was also saddened and wanted to comfort him and the others who suffered."
"My emotions told me to be angry," he writes, of the violence he witnessed and even himself endured, but, "My training told me otherwise."
He goes on to wonder if certain remarks he made while acting as a sort of de facto leader were worth it, suggesting that "Our language and tone sometimes exacerbated tensions and played to the extremists rather than raising the issue of the value of this young man whom we were so concerned about." And twenty years later, he writes, "I have grown." He would have taken a more measured tone, he says, expressing "more clearly…the precious value of" lives lost on both sides of the racial divide.
Though the piece aims to be an earnest retrospection on a time that, even twenty years past, still makes little sense, it will likely be taken by Sharpton's supporters as an act of healthy reflection rather than an admittance of failure. His hedging towards a more measured tone, however, does speak in part to the concerns of Salon's Glenn Greenwald, who has wondered if Sharpton's avowed new outlook might be dangerously and unethically tame for someone now claiming to be a journalist. Greenwald is right to suggest that this newfound unwillingness to be outwardly critical is worrisome, but Sharpton's proven ability to look back at his own changing standpoints might end up proving refreshing, especially in a cable news environment not often friendly to such back-stepping.
Have a tip we should know? tips@mediaite.com