Rev. Al Sharpton Reports On Racist T-Shirt At Romney Rally: 'Put The White Back In The White House'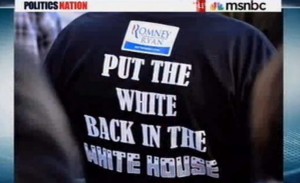 On Monday night's PoliticsNation, Reverend Al Sharpton pegged an entire segment to a wire service photo taken at a Mitt Romney campaign event in Lancaster, Ohio on Friday. A Getty Images photographer captured an image featuring a man at a Mitt Romney rally wearing a t-shirt that sported the Romney/Ryan campaign logo, and the slogan "Put The White Back In The White House."
As Rev. Al noted, the image has "gone viral," but does that make it news, and is it unfairly prejudicial to connect the image to the Republican presidential ticket?
In introducing the segment, Rev. Al was careful not to pad the facts, noting that the photo "was taken at a Romney/Ryan rally in Ohio on Friday and it says, quote, Put The White Back In The White House," and that the photographer, Getty Images' Jamie Sabau, "confirms it was taken inside the rally, not outside."
The Rev even noted that "the Romney campaign rightly calls the t-shirt reprehensible, and says it has no place in this election."
Rev. Al certainly isn't the first person to report on the shot. US News and World Report ran an item today, with the ostensible theme that the racist shirt is an indication that campaign rallies are "getting harder to control," and as The Grio notes, the shirt got a lot of attention from online and social media over the weekend, but isn't the point really to attach the shirt's racist sentiment to the Romney campaign?
That certainly seemed to be Rev. Al's point, but at least he had the courage to come out and say it. "But I have to wonder how he made it inside the rally in the first place," he asked. "Did anyone notice his shirt?"
He then placed this incident in context with other recent examples of Republican flirtations with racism, such as former Wisconsin Gov. Tommy Thompson's son offering to send President Obama "back to Kenya," or Matt Romney's birther joke, which must have really impressed dad, who made one of his own just a matter of weeks ago. Rev. Al wasn't being cute, he came out and explicitly made the point that, despite their denunciation, that t-shirt was nothing more than a distillation of the Romney campaign's not-so-subtle message. As commentary, it was fair game, played fairly.
Whether it was fair for other outlets to treat the shirt as news is another question. Presenting the story as an example of how hard it is to control campaign events seems like a fig leaf. On the other hand, conservatives were all too happy, in 2008, to have those "Sarah Palin Is A C**t" t-shirts, which were not worn at an Obama campaign event, and were worn by people who were not Democrats, treated as a news story. Sauce, meet gander.
Conservative outlets like Brietbart.com inadvertently lend legitimacy to this kind of coverage, as well, by not arguing whether the shirt is news, but by concluding that there's no way a guy at a Mitt Romney rally could possibly be a Mitt Romney supporter. Fair enough, but then where is the news story that says "Racist Asshole Ejected From Romney Rally By Outraged Supporters?"
Here's the clip, from PoliticsNation:
Follow Tommy Christopher (@TommyXtopher) on Twitter.
Have a tip we should know? tips@mediaite.com