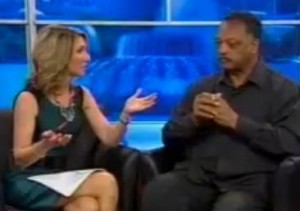 The effort among some conservatives to exploit fringe group The New Black Panthers' insertion of themselves into the Trayvon Martin story hit another snag today, as Rev. Jesse Jackson, who has been among the leaders of protests over Trayvon's killing, denounced the group's distribution of "Wanted: Dead or Alive" leaflets for, and issuance of a $10,000 bounty for the capture of, Trayvon Martin shooter George Zimmerman.
As anger surrounding the killing has risen, spurring rallies and protests, leaders like Rev. Jackson and Rev. Al Sharpton have made a point of urging Trayvon's supporters to channel their frustration nonviolently. In an interview with a local Orlando Fox affiliate, Rev. Jackson was asked, directly, about the New Black Panthers' actions.
"You have preached about the groups who come out and rally about them being peaceful, how important it is they remain peaceful," said anchor Amy Kaufeldt, "and yet there are groups like the New Black Panther Party that came out and put out flyers that say, 'wanted alive or dead' for George Zimmerman. What do you think about the group and the group's remaining people?"
"The violence comes from Zimmerman," Rev. Jackson replied. "The cover-up from the police department. We would do well to remain disciplined, focused and non-violent. Any diversion from that takes attention away from Zimmerman and Trayvon and the family. I hope we remain in the face of all these provocations, focused and non-violent. We need to keep the focus on trayvon, and who killed him and how that killing will be processed."
Kaufeldt asked, "If a few weeks down the road this grand jury comes back and they do not file charges or decide that charges are warranted in this case, what will you be thinking, and what do you think the community as a whole will do?"
"Tthe world will continue to intensify its protest," Rev. Jackson predicted. "It's a blatant injustice and intolerable at this time."
"Given how massive the Trayvon Martin case is, and the spilling of innocent blood, we're at a tipping point," he continued, "very close to a crisis of bigger proportions unless something happens rather quickly. I do not know why this prosecutor, this state's attorney and this police department seem to be covering up something. There's something serious about the protection of Zimmerman in the face of all the crises being created in Florida and all the nation."
The New Black Panthers are not affiliated with the original Black Panther Party in any way. In fact, leaders of the original Panthers have denounced the NBPP, even suing them for use of the name, and stating that the New Black Panthers operate on "hatred of white people." The NBPP has been designated a "hate group" by the Southern Poverty Law Center, and the Anti-Defamation League.
Here's the clip, from Fox affiliate WOFL Orldando, Florida:
Have a tip we should know? tips@mediaite.com