Rev. Jesse Jackson Repeatedly Challenged To Defend Chicago Gun Ban After 500th Homicide This Year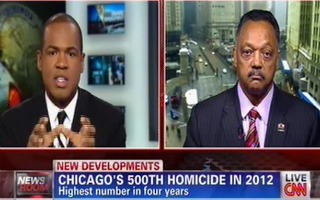 Rev. Jesse Jackson appeared on CNN on Friday where he was pressed to defend Chicago's strict gun control laws following the city's 500th homicide, 87.5 percent of which are gun-related, this year. Jackson said that Chicago, unlike Newtown, has no gun culture – Newtown, Connecticut, having several gun ranges whereas Chicago has none. He also said that the pressing issues of poverty, unemployment and the lack of a sense of mobility in America's urban centers are the root causes of gun violence.

Jackson was asked to defend Chicago's gun ban, given the staggering rates of gun violence in America's cities compared to other areas that do not have such strict gun laws and experience less gun violence.
"I think about Newtown, for example, they have three or four gun ranges. There are no gun ranges in Chicago," Jackson replied. "Newtown is so different than the complexity of the urban crisis."
"40 percent unemployment does matter," Jackson continued. "Lack of education does matter." He said that gun crime and joblessness are inextricably linked.
Jackson was asked again, given Chicago's gun violence in spite of its strict gun laws, how even stricter gun laws can be justified.
"The guns are not coming from Chicago," Jackson replied. "Chicago is in a bubble as the manufacturer — we're a target market for gun flow. And they exploit the poverty and the pain."
"It's not gun violence. It's also poverty and lack of education and lack of dreams, where people think killing is the only way out," Jackson concluded. "This is the need for an urban policy of reconstruction."
Watch the exchange below via CNN:
> >Follow Noah Rothman (@Noah_C_Rothman) on Twitter
Have a tip we should know? tips@mediaite.com