REVIEW: Grace Parra Channels 'Overly Attached Girlfriend' in Nightly Show Debut, and It's Wonderful
One of the more prominent things that sets Larry Wilmore's The Nightly Show apart from other late night programs is how it makes use of regular contributors for scripted bits. Unlike Trevor Noah's inheritance from Jon Stewart, whose company members act chiefly as news correspondents specializing in various fields of (dis-)interest, Wilmore's cast plays slightly expanded parts. It's less Daily Show, and more "Weekend Update" on Saturday Night Live.
Whenever Ricky Velez, Holly Walker and Mike Yard show up, it's almost always as a different character. It's one of better aspects of The Nightly Show, and now that newcomer Grace Parra has joined the gang, the writing staff can flex its comedic muscles even further. Which is great, since Parra debuted on Tuesday's episode as Liza Delgado, Republican presidential candidate Jeb Bush's fictional campaign adviser and "Jeb Can Fix It" cheerleader.
"Oh Larry, it is all about fixing it," Parra began the segment. "You know this country is broken, and Jeb is a one-man genius bar."
The line as-written is mildly funny, but the native Texan's delivery is what makes it work. Why? Because of the way she inflects the "genius bar" jab, and her face.
Seriously, people. LOOK. AT. PARRA'S. FACE.
Those of us who frequent the Internets have seen a face like this before. One that is as haunting as it is hilarious. I'm talking, of course, about the Overly Attached Girlfriend meme.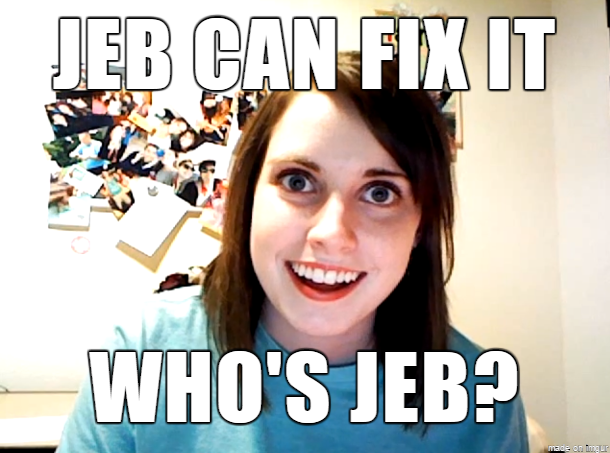 It's one thing to write, memorize and recite comedy. It's another thing entirely to perform it, which the White Guy Talk Show alum did perfectly in her Nightly Show debut. Her exaggerated smile and explosive excitement — two characteristics I wouldn't necessarily use to describe actual Bush supporters — help sell the bit's continued jabs at the "Jeb Can Fix It" campaign slogan. Lines like:
"Jeb fixed our problem with a larger office by moving us to a smaller one."
"We had zero volunteers. Now there are four. That's a 400 percent increase. Fixed it!"
"As the son of a one-term president, Jeb pulled himself up by his father's bootstraps."
Again, all exhibit different levels of humor when read by themselves. However, as delivered by Parra, they scream for our attention like a crazed, scorned ex who stands outside your bedroom window, playing New Found Glory's cover of "Don't You (Forget About Me)" by Simple Minds with an old iPod speaker stand. It's funny, somewhat excitable and difficult to ignore.
The freedom of performance encouraged by The Nightly Show's format is perfect for Parra, who in turn justifies the format's lack of regular "correspondents." Who knows? Maybe Delgado will become a recurring character, moving from one Republican campaign to another as the total number of candidates weens down to just a few in the coming year.
Check out the clip above, via Comedy Central.
[Image via screengrab]
— —
>> Follow Andrew Husband (@AndrewHusband) on Twitter
Have a tip we should know? tips@mediaite.com