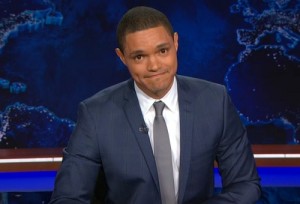 At the beginning of Trevor Noah's first episode as host of The Daily Show on Monday, the South-African comedian gave thanks to his predecessor, Jon Stewart. His kind words about endeavoring to continue the latter's "war on bullshit," and the myriad of jokes about his ethnicity, helped propel the show and the many reviews that were subsequently published.
Yet neither Noah's thanks to Jon nor his self-deprecating one-liners figured into the premiere's two most important moments, both of which occurred in the opening monologue.
The first came immediately before the host's implied promise to continue the "war on bullshit." Noah addressed the audience, saying: "And to you The Daily Show viewer, both new and old, at home or on your phone, thank you for joining us."
Despite the increasing virality of Stewart's later episodes, his Daily Show never fully ventured out into the wilds of Internet content the same way that Stephen Colbert's Colbert Report did. In terms of Comedy Central's talk show programming, Stewart was the closest analog cable television had to David Letterman's Late Show. Unlike Jimmy Kimmel Live and The Tonight Show Starring Jimmy Fallon, the elderly statesman of late night wasn't always trying to make the latest and greatest in viral content.
Now that the transition is complete, however, both The Daily Show and the Late Show have new hosts with a modernized focus. Such is especially the case for Noah's show, which Comedy Central described as having "a new social and multiplatform initiative" in an August press release. So when Noah address his smartphone-based audience, he was doing so with the intention of engaging a rapidly-growing pool of viewers. Besides, how many of you still watch The Daily Show on an actual TV set anymore? How many of you still watch the episodes in their entirety?
As for the second pivotal moment of the premiere, that came swiftly during Noah's first-ever topic as the new host: Pope Francis' trip to the United States. After poking fun at the media's use of a goofy assortment of lexical coinages to refer to the pontiff's tour of Washington D.C., New York City and Philadelphia, Noah targeted the Pope's preferred mode of transportation — what Matt Lauer dubbed "a tiny Fiat."
"Oh that's a tiny car. Somebody's under-compensating," Noah joked, before adding: "I'm saying the Pope has a huge cock. That was a joke… And what a waste."
Again, Stewart had moments like this on The Daily Show — when certain topics invited frat boy-esque humor structured in a way so as to make the audience laugh at otherwise crude things. Yet Noah did it within the first five minutes of a roughly 25-minute program, and it wouldn't be the only time either.
Three more jokes of a similar, probably-offensive-but-not-quite-there nature popped up during Noah's second segment, which covered Ohio Rep. John Boehner's decision to resign his post as Speaker of the House. The first was a predictable one, in which the host quipped that he had just "learned how to pronounce [Boehner's] name," then coyly said said it while giving an exaggerated wink. Then, when describing Boehner's speaker job as being akin to a club bouncer, Noah said "everyone at the club has aids" in the hopes of eliciting a reaction from the audience. Obviously it worked, as did a subsequent joke about crack "[taking] down Whitney Houston" when comparing the GOP-controlled Congress' relationship with its more conservative elements to meth and crack cocaine.
Think of the predictable headlines such late night jokes would likely inspire. Possible options include:
"Here are those Trevor Noah jokes about AIDS/aides, Whitney Houston on The Daily Show"
"Trevor Noah Opens Daily Show Gig With Risky Whitney Houston Joke"
Both look like the kinds of headlines websites like Salon would write, but they're actually real heds from the Washington Post and Billboard, respectively. And considering the number of reactionary posts and reviewers' comments (including my own) that are acknowledging, evaluating and dissecting the jokes behind them, everyone is already proving the validity of the first significant moment of the premiere — Noah's direct address to the fans watching on their phones.
Does this mean that the new Daily Show is going to encourage its own virality with the most shocking jokes and comments its writers can imagine? This would be a dream come true for Internet trolls of all shapes and sizes, but such is likely not the case. Besides, The Tonight Show has become late night's equivalent to a viral conglomerate, and host Jimmy Fallon has never resorted to mildly offensive humor or dicks jokes to do so.
Then again, Fallon is on broadcast television, and must therefore comply with a host of FEC guidelines and network censor requests that a cable-based program like The Daily Show doesn't deal with. Except for the word "cock," which Comedy Central weirdly beeped out in Noah's well-endowed Pope joke.
[Image via screengrab]
— —
>> Follow Andrew Husband (@AndrewHusband) on Twitter
Have a tip we should know? tips@mediaite.com