Richard Cordray On Whether He Was Legally Appointed: 'There Are Lawyers Who Are Digging Into That'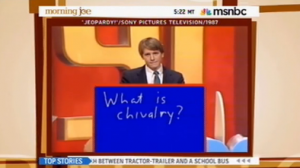 Richard Cordray, the newly-appointed — and rather controversial — director of the Consumer Financial Protection Bureau, stopped by the set of Morning Joe Wednesday to discuss his new role, and found himself treated to a little trip down memory lane.
Back in 1987, Cordray was winning big on a little game show called Jeopardy, one time by answering a fairly easy (snappin' my suspenders smugly, folks) question (or answer, really) comparing bushido and chivalry. The four-time winner took home $40,303 for his trouble. He also had really great hair.
RELATED: Rush Limbaugh: 'Lawless' Obama Is 'Taking A Pee On The Constitution'
"What was the tax rate you paid on that?" joked the panel about his winnings. "115 percent," he laughed.
"There's a big battle about whether you were legally appointed or not," said host Joe Scarborough, turning serious, "because you may not have been a recess appointment. What is your bottom line on that issue?"
Look, I'm going to leave that to others. There are lawyers who are digging into that. My job is to be the director of the Consumer Bureau. It feels to me that director position was long overdue to be filled. We've got a lot of work to do for the public, a lot of work to do help these markets function more effectively, and that's what I'm focused on.
And what would he say to conservatives who argue we don't even need yet another federal agency?
"Well, we never really had a federal agency that had that job," said Cordray. "It was kind of broken out among 7, 8 agencies, which meant nobody focused on it. We had the mortgage market that was badly broken, which led to the financial meltdown. We all know how badly that hurt so many Americans, whom had nothing to do with it but lost jobs, lost homes, had their communities affected. So if we can make sure these markets function in a fair and transparent manner, I think businesses, the responsible businesses, are going to welcome that."
Have a look, via MSNBC:
Have a tip we should know? tips@mediaite.com