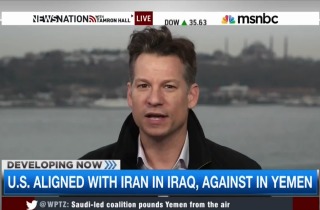 NBC foreign correspondent Richard Engel criticized the Obama Administration's foreign policy toward Iran on Friday, saying it seems "convoluted" and "incoherent" at best, given the fact that the U.S. seems to be contradicting itself in its support and opposition to Iran in a number of countries.
Engel explained how the U.S. is fighting both with and against Iran in Syria, which he said is "an incredibly convoluted dynamic." He said that while the U.S. is negotiating with Iran over its nuclear program, it is supporting the fight against Iran in Yemen, where Iran-backed Houthi rebels recently forced out that country's president and Saudi Arabia launched air strikes against them in retaliation.
"We're fighting both with and against Iran in Syria, and fighting with Iran in Iraq," Engel said. "There are many people who I've spoken to — many in the military, many policy analysts — who say that what we're seeing here is an incoherent policy regarding not just Iran, but regarding the Middle East in general."
Engel also said many in the military were "taken by surprise" when Saudi Arabia started bombing Yemen because they did not "consult extensively" with the U.S. military.
"Senior officials who would have been expected to know that there was going to be an operation in Yemen, they didn't," Engel added. "They were finding out about it almost in real time."
–RELATED: Karl Takes on Earnest: 'Astounding' How W.H. Still Believes Yemen 'Model for Counterterrorism'
He also said many people in the military and in Congress believe that Saudi Arabia didn't tell the U.S. in advance because they don't trust the Obama Administration anymore since they are "working to befriend Iran," meaning they did not think the intelligence information would be "secure."
Engel said it's "troubling" when traditional U.S. allies in the Middle East suddenly don't trust the U.S. to "hold on to sensitive information when it comes to Iran."
In recent months, Engel has been notably critical of the Obama Administration's foreign policy toward fighting ISIS, and he openly criticized the president for his characterization of the world in his State of the Union address.
Watch the video below, via MSNBC:
[Image via screengrab]
— —
>>Follow Andrew Desiderio (@forza_desiderio) on Twitter
Have a tip we should know? tips@mediaite.com