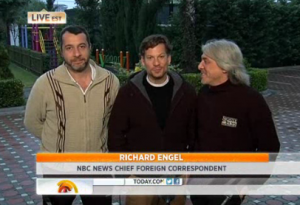 NBC News' Richard Engel and his two colleagues, producer Ghazi Balkiz and cameraman John Kooistra, are fortunately safe after being kidnapped and held for five days in Syria. On Tuesday morning, speaking from Turkey, the three recounted their experience.
RELATED: NBC News' Richard Engel Released Safely After Kidnapping And Five Day Captivity In Syria
"We weren't physically beaten or tortured. It was a lot of psychological torture, threats of being killed," Engel said on Today. "They made us choose which one of us would be shot first, and when we refused, there were mock shootings. They pretended to shoot Ghazi several times. And when you're blindfolded, and they fire the gun up in the air, it can be a very traumatic experience."
Balkiz said his first reaction was "disbelief." He added: "But I've worked with those guys for a long time in harsh environments, and we work with each other very well, and it helped that I was captured with them because we kept each others' spirits up."
To that point, Engel mentioned that they were not allowed to speak, but "but if you sort of peek under the blindfold, and you can see if there is a guard in the room or not, and we tried to joke a little bit back and forth and keep our spirits up."
Engel and his production team were held detained on Thursday morning after entering Syria. They were blindfolded and placed in the back of a truck. NBC News' statement cited an "unknown group," but Engel said he believed his kidnappers were Shiite supporters of Syrian President Bashar al-Assad.
"While we're obviously very happy, there are many people who are still not at liberty to do this kind of thing," Engel continued. "There are still hostages. There are still people who do not have their freedom inside Syria. We wish them well."
That's important to remember — but we're glad they're safe.
Watch below, via NBC:

Visit NBCNews.com for breaking news, world news, and news about the economy
Have a tip we should know? tips@mediaite.com