Richard Sherman Defends Post-Game Rant: 'To Those Who Would Call Me a Thug…'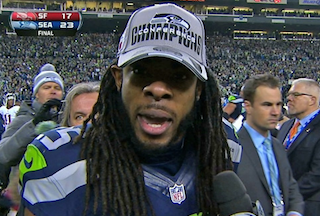 After the Seattle Seahawks defeated the San Francisco 49ers in last night's NFC Championship game, Seattle cornerback Richard Sherman delivered a fiery rant against 49ers wide receiver Michael Crabtree, as Fox Sports' unnerved-looking Erin Andrews stood by with her microphone. The outburst drew some heated, and seriously racist, reactions on social media, leading Sherman to defend himself on Sports Illustrated's MMQB blog Monday morning.
Sherman, who is a frequent contributor to Peter King's blog, gives a breakdown of what happened immediately after Seattle's victory. "I ran over to Crabtree to shake his hand but he ignored me," he writes. "I patted him, stuck out my hand and said, 'Good game, good game.' That's when he shoved my face, and that's when I went off."
When he was approached by Andrews for a post-game interview, Sherman writes that he just say what was "obvious": "If you put a subpar player across from a great one, most of the time you're going to get one result." He also mentions an unspecified comment Crabtree made to him during the off-season in Arizona. "A lot of what I said to Andrews was adrenaline talking, and some of that was Crabtree. I just don't like him."
"It was loud, it was in the moment, and it was just a small part of the person I am," Sherman explains. "I don't want to be a villain, because I'm not a villainous person… To those who would call me a thug or worse because I show passion on a football field—don't judge a person's character by what they do between the lines. Judge a man by what he does off the field, what he does for his community, what he does for his family."
He then addressed the often racially-motivated backlash he received on Twitter. "But people find it easy to take shots on Twitter, and to use racial slurs and bullying language far worse than what you'll see from me," he writes. "It's sad and somewhat unbelievable to me that the world is still this way, but it is. I can handle it."
Read Sherman's full essay at MMQB.SI.com.
Watch the video of Sherman's post-game rant below, via Fox Sports:
[photo via screengrab]
— —
>> Follow Matt Wilstein (@TheMattWilstein) on Twitter
Have a tip we should know? tips@mediaite.com