Richard Simmons Attacks Obamacare Mandates, Breaks Down in Tears in Crazy CNN Interview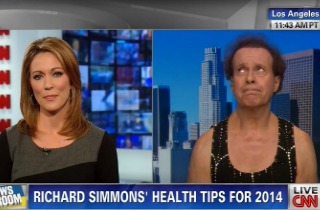 Fitness guru Richard Simmons appeared on CNN with Brooke Baldwin on Monday for a wide-ranging interview. Over the course of a whirlwind few minutes, Simmons danced, attacked the Affordable Care Act's mandates, and broke down in tears when asked to reveal what he tells himself in the mirror on a daily basis.
Simmons began by denouncing the mandates in the ACA which force vending machines to display the calorie counts of each of its products. He said that the government should take the $25 million allocated to that project and "give it to people out of work."
"I think we have a very smart consumer," Simmons asserted. "They know what they're eating. It's really all about self-worth and not about looking at the labels on the back."
RELATED: Richard Simmons Goes Bonkers, Breaks Down Crying on Fox; Says Obamas 'Rejected' Him
Later, Simmons produced an empty card which he said viewers should fill with affirmations which they can mail to themselves. "You write the New Year's resolutions," he said.
"What do you say to yourself in the mirror in the morning?" Baldwin later asked.
It was then that Simmons became visibly emotional. "I say, 'try to help more people,'" Simmons confessed. He noted that obesity is climbing and the poor economy makes it harder for people to stay in shape.
"But just remember, you're one of a kind and God could have made you a butterfly that lasted three months," Simmons said. "But he made you a human being."
Simmons later said, through his tears, that the greatest compliment he was ever paid was that someone said that he made them laugh which gave them hope. "Because with hope, you can cope," Simmons added.
Finally, Baldwin closed the interview on "a lighter note" by playing a portion of Simmons' latest music video in which he sings about hair styles.
In November, Simmons had another crying episode on Fox News Channel when he revealed that he thought President Barack Obama "rejected" him.
Watch the clip below via CNN:
[Photo via screen grab]
— —
> >Follow Noah Rothman (@NoahCRothman) on Twitter
Have a tip we should know? [email protected]