Richard Wolffe On Mitt Romney: 'If Risk Taking Is Talking To Chris Wallace, You Need To Recalibrate'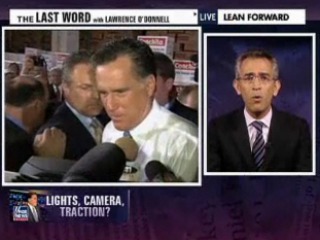 MSNBC's Lawrence O'Donnell presented viewers to the "new and desperate Mitt Romney," a Mitt Romney who is making himself more available to the media in the wake of former Speaker Newt Gingrich's rise in the polls.
Romney explained the change in strategy to Fox News' Neil Cavuto the other afternoon, telling him that this is simply what happens near the end of a campaign cycle — the "final push," if you like.
RELATED: Mitt Romney Announces He Won't Be Participating In Trump Moderated Debate
MSNBC analyst Richard Wolffe joined O'Donnell to talk more about Romney's strategy.
"It's not exactly radical, is it?" said Wolffe. "I mean, if risk taking is talking to Chris Wallace, then you need to recalibrate your approach to risk. There are a number of strategies you can adopt to try and dig your way out of a former front-runner status. You could be Al Gore and say you're the 'underdog' and get scrappy and try and take on Bill Bradley. You could just rip off your opponent wholesale, that's what Bush did to McCain in South Carolina. You can do any number of different things. You can be John McCain and talk to the press all day, every day." But going on cable, he added, may not be the best way to take on an opponent while reaching out to as many voters as possible.
The main problem Romney's campaign is currently facing, as Wolffe sees it, is that it had been fueled primarily and for so long by his "inevitability factor." And now that Gingrich is surging ahead, the campaign must look to something else to make sure voters know this candidate isn't simply electable because "of course he is." One way to go about this, Wolffe suggested, is to try and portray a sense of spontaneity and "realness." But that sort of authenticity is difficult to convey, he argued, via cable news. O'Donnell agreed, noting that it isn't as if Romney had received much of a warm welcome from Fox News, particularly compared to his rivals who have previously worked at the network.
RELATED: Rachel Maddow Mocks Fox News' Coverage Of Gingrich Vs. Romney In 'Murdoch Primary'
Could it be time for Romney to launch a Barack-Obama-in-'08 style "Hope" campaign to inspire voters to stick with him?
Have a look, courtesy of MSNBC:
Have a tip we should know? tips@mediaite.com