Richard Wolffe: Why Does The GOP Only Criticize People Of Color In Obama Administration?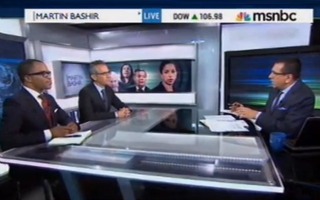 Just days after receiving a stern rebuke from Fox News Channel host Greta Van Susteren for suggesting that Sen. John McCain (R-AZ) was racist due to his objection to United Nations Ambassador Susan Rice's potential ascension to replace Sec. Hillary Clinton, MSNBC contributor Richard Wolffe again struck a racial chord. Wolffe told MSNBC host Martin Bashir on Wednesday that he thought it was more than a coincidence that Republicans seem to only be critical of the Obama administration's ethnic minorities, though he declined to offer any conclusions as to what that observation reveals about the Republican party as a whole.

RELATED: Greta Goes Off On MSNBC's Richard Wolffe And Touré: 'Let's Get Something Straight – Senator John McCain Is NOT A Racist'
Having acknowledged that the general consensus within the progressive commentariat is that objection to Rice is based primarily on her gender and skin color, Bashir asked Wolffe if those Republicans leveling the charge that Rice is unfit to become the next Secretary of State are also settling past scores because she is known to have "sharp elbows."
Wolffe dismissed the "sharp elbows" explanation, saying that this charge has generally been made only by individuals within the administration who have disagreed with Rice over policy.
What you're seeing here is a war-by-proxy on the president, which is why he said 'if you want to come after me, come after me. And it always just happens to be people of color who are working alongside him. Whether it's Eric Holder, at the center of another vast, completely unfounded conspiracy, or Valerie Jarrett – apparently completely unqualified to exercise any power whatsoever, or Van Jones who is really some kind of crazy, kooky Communist.
Wolffe asked why Republicans never single out white members of the Obama administration for criticism, like Treasury Secretary Timothy Geithner. Though, Wolffe failed to note that Geithner's failure to pay $34,000 in past due taxes were the subject of intense debate and nearly scuttled his confirmation in January, 2009. Geithner was forced to apologize for what he called a "careless mistake."
Wolffe also asked why the Secretary of Housing and Urban Development, Shaun Donovan, had been spared Republican's criticisms. Donovan's fortune is, however, more likely a function of the HUD secretary's low public profile. Donovan did, however, anger some administration supporters when he came out in support of gay marriage last year at a time when the president was still publicly opposed to same sex marriage.
Wolffe concluded that the numerous Republican Senators who have publically expressed their reservations about Amb. Rice replacing Sec. Clinton are simply "pandering to Fox News" which has, in his estimation, "led this charge" against Rice's qualifications to be the next Secretary of State.
Watch the clip below via MSNBC:
> >Follow Noah Rothman (@Noah_C_Rothman) on Twitter
Have a tip we should know? tips@mediaite.com