Rick Perry 'Big Black Cloud' Quote Edited Out Of Context By MSNBC And ABC News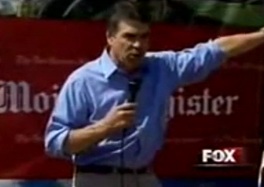 GOP hopeful Gov. Rick Perry drew fire from some quarters earlier over a remark, reported by ABC News' The Note blog, that "a 'big black cloud' hangs over the country."
As it turns out, Perry's remark was much more specific. While he did use the phrase "big black cloud," he was referring explicitly to the debt, as the full video of Perry's remark reveals.
Update: ABC News Deputy Political Director Michael Falcone responds.

BreitbartTV's Larry O'Connor tracked down the full video of Perry's remarks (which Mediaite also requested of ABC News prior to our post on the subject), and compared it with an edited version that aired on Monday night's The Ed Show.
Here's the clip that ran on Fox affiliate KAYU in Spokane:
BreitbartTV compared that clip with the one that ran on The Ed Show:
Now, Schultz could have aired the entire clip, and still tried to make the case that Perry's remark was poorly chosen. Chopping the clip the way he did was dishonest and, at best, an oversell by a zealous partisan commentator.
But there is no excuse for ABC News' reporters abridging Perry's remark in that fashion. It was their reporting upon which April Ryan, and others, relied in forming their strong reactions to the quote, and not Schultz's edited clip. It was the truncated, oddly-paraphrased fashion in which ABC reported his remark ("Perry warned that a 'big black cloud' hangs over the country") which made me contact them (and Perry's campaign) to check on the quote in the first place.
We also performed several searches for video of Perry's remarks before publication, but found nothing.
Whatever your opinion of Governor Perry, politically or otherwise, he deserves to be quoted as fairly and completely as any other figure. Not to do so is inexcusable.
Update: Salon's Joan Walsh points out that The Ed Show didn't completely edit out Perry's comments about the debt
Quick, before they doctor it! http://t.co/PjgeCiN The Ed clip Breitbots claim leaves out Perry's deficit reference — which doesn't
They play his lead-in comment, "Being able to pay off 14 and a half, 16 trillion dollars worth of debt. That big black cloud that hangs over America."
The clip did cut off Perry's next remark, which would have been "That big black cloud that hangs over America, that debt that is so monstrous…"
That's an important bit of context, and contrary to Walsh's tweet, BreitbartTV's clip (which included the full Ed Show lead-in) made the correct claim that an important reference to the debt was edited. Walsh has a point, though, that Ed can make the case that he left in sufficient context, and that critics' real problem is with the opinion he offered.
The same cannot be said of ABC News' The Note, who truncated and paraphrased Perry's quote at both ends, completely removing any reference to the debt.
Update: ABC News Deputy Political Director Michael Falcone responds by telling Mediaite, "Perry was speaking about the economy when he said that. We stand by the accuracy of our quote."
In the original ABC piece, the "big black clouds" quote was preceded by several quotes that were directed at President Obama, but were also about economic issues. Including the part of the quote that dealt with the debt would have greatly clarified Perry's meaning. In fairness to Falcone, that doesn't mean the omission was anything but an innocent editorial decision.
Update II: On his program tonight, Ed Schultz apologized for taking the clip out of context and played it in full.
*This post has been updated to more accurately reflect Joan Walsh's tweets.
Have a tip we should know? tips@mediaite.com