Rick Perry Gets Into Immigration Scuffle With Mitt Romney And Rick Santorum At Fox/Google Debate
Rick Perry Gets Into Immigration Scuffle With Mitt Romney And Rick Santorum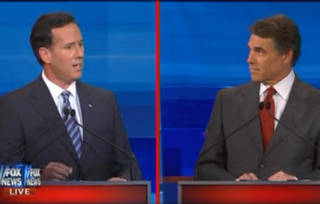 Tonight's Google/Fox News Republican 2012 presidential debate is the third such event in the past three weeks, and perhaps the testiest of the bunch. Perhaps most indicative of the comfort with which the Republican candidates are slamming each other at this point is this exchange, initially between Mitt Romney and Rick Perry, and later picked up by Rick Santorum, on illegal immigration, where Perry took a strong stance in favor of educating undocumented children.
Romney first responded to a question on Texas' measures to help illegal immigrant children pay their tuition at state schools, saying "it doesn't make sense to me" that illegal immigrants can get in-state tuition discounts that American citizens aren't eligible for and calling for America to "turn off the magnet of government discounts." To that argument, Perry replied passionately that "you don't have a heart" if you don't feel for the children of illegal immigrants. "We have to educate these children," he concluded.
That answer triggered Santorum's entry into the argument, who asked Perry to explain how the program had helped Texas stop the flow of illegal immigrants in any way, and continued to attempt to interrupt Perry's answer for more or less the entire time Perry was talking. Perry stuck to his guns, however, shaking Santorum's pleas to explain how his policies helped Texas and instead sticking to the point that children should receive an education.
The winner of the exchange by far? Moderator Chris Wallace, who jumped in several times to stop Santorum from cutting in, and responded to Santorum's frustration at Romney by admitting to much frustration as a moderator at all the candidates instead.
The segment via Fox News below:

Have a tip we should know? tips@mediaite.com