Rick Perry: I'm Not Going To Tell Pastor Robert Jeffress What He Can Or Can't Say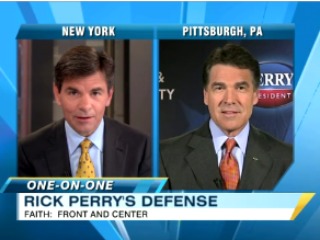 ABC News' George Stephanopoulos spoke with Texas governor and GOP presidential hopeful Rick Perry about comments Perry's wife, Anita Perry, made at a campaign stop in South Carolina regarding the "brutalization" her husband has suffered at the hands of the press and his opponents due to his Christian faith and conservative viewpoints.
Stephanopoulos asked Perry whether he agreed with his wife's assessment of their situation.
RELATED: Bill O'Reilly On Christian Candidates And The Secular Press: It Drives Them Crazy
I'll tell you for sure that family members generally take these campaigns harder than anyone else, but I'll stand by my wife. I think she's right on both cases. My understanding is that she said I'm the most conservative candidate in the race and he's a Christian, so I haven't got anything I can add but that she's hit me on my mark both times there.
Governor and Mrs. Perry's comments about the press' treatment of their faith come at an interesting time in their campaign. You'll likely recall that Pastor Robert Jeffress introduced Perry at the Values Voter Summit earlier this month by announcing that "I think those of us who are born-again followers of Christ should always prefer a competent Christian to a competent non-Christian like Mitt Romney."
RELATED: Anti-Mormon Southern Baptist Leader Slams Mitt Romney's Faith As 'A Cult'
Perry responded to Stephanonopoulos' questions about Jeffress' statements:
Look, I'm not going to say that he can't say what he wants to say. The issue is, are we going to tell people what they can say and I'm not going to be one of those. This is a country where we truly have freedom of expression. And they are going to be people who say things about me, probably going to be people that say things about President Obama that are offensive to him and his family. But those folks who say those things are going to be the ones that you need to be asking the questions to.
Perry also talked about Herman Cain's "9-9-9" plan, agreeing with his wife's take that it makes her want to call "911." But he does find Cain interesting, "that's for sure."
Have a look, courtesy of ABC News:
Have a tip we should know? tips@mediaite.com