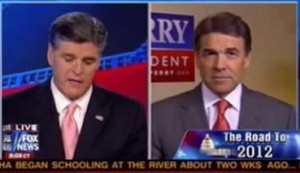 On Fox News' Hannity program last night, Texas Gov. Rick Perry explained his newest attack ad against President Obama, which falsely accuses the President of saying that "Americans are lazy."
Perry told host Sean Hannity that he thought the President's remark "reveals to me that he grew up in a privileged way," and that "he never had to really work for anything."
As I reported yesterday, Perry released a new ad entitled "Lazy," which seeks to make hay out of a comment the President made about American efforts to promote US commerce globally, but which Perry morphs into an attack on average Americans. Speaking at the APEC summit in Hawaii this past weekend, the President said, "there are a lot of things that make foreign investors see the U.S. as a great opportunity — our stability, our openness, our innovative free market culture."
"But we've been a little bit lazy, I think, over the last couple of decades," he continued. "We've kind of taken for granted — well, people will want to come here and we aren't out there hungry, selling America and trying to attract new business into America."
In his ad, Perry clipped the "lazy" remark out of context, and said, ""Can you believe that?  That's what our President thinks is wrong with America? That Americans are lazy?"
Now, it seems that Perry is trying to say that President Obama is the lazy one.
Hannity asked Perry, "What does it (the President's remark) reveal to you about his mind set and thinking?"
"It reveals to me that he grew up in a privileged way," Perry said. "He never had to really work for anything. He never had to go through what Americans are going through. There's 14-plus million americans sitting out there, some of them watching this program tonight, that don't have a job. This president has never felt that angst."
There are a lot of ways to describe Barack Obama's upbringing, but "privileged" certainly isn't one of them. The son of a single mother who, at times, depended on food stamps for subsistence, Obama can barely claim birth to a plastic spoon existence, let alone a silver one. While people like Perry might not respect Obama's work as a community organizer, it hardly puts a Monopoly Guy monocle on him.
Given his slide in the polls and disastrous performance against his Republican rivals during the debates thus far, it's no wonder that Perry would rather pick fights with people he's not running against yet. If he wants to beat up on President Obama, though, he needs something better than this.
Here's the clip, from Fox News' Hannity:
Have a tip we should know? tips@mediaite.com