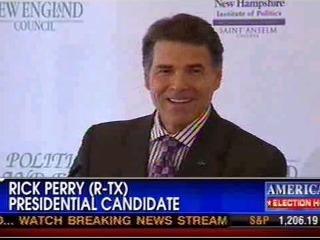 Texas governor Rick Perry has experienced his fair share of ups and downs this week, surges in attention and popularity dotted with criticism — from big names within his own party — over his rhetoric.
You'll recall that, Monday evening in Iowa, a reporter asked Perry whether he thought President Barack Obama loved the U.S. Perry's response? "You need to ask him. I'm saying, you're a good reporter, go ask him." During an interview with CNN's Wolf Blitzer, Obama responded to Perry's recent comments by saying he'll cut Perry some slack, but that one should be careful about the things one says.
Speaking before a bipartisan crowd today at a "Politics and Eggs" event in Bedford, New Hampshire, Perry reeled things in a bit while still aggressively articulating his ideas, even if he did look down at his notes rather than speaking entirely off the cuff.
You know yesterday the president said I needed to watch what I say. I just want to respond back, if I may. Mr. President, actions speak louder than words. My actions as Governor are helping create jobs in this country. The President's actions are killing jobs.
The Texas Tribune reports that Perry fielded some tough questions during the event that, as it happens, had absolutely nothing to do with Bernanke or the President of corn dogs, and even admitted to a misstep in his role as Texas' governor:
The breakfast event is known for grilling politicians, and there were some pointed questions, but for the most part it was a curious and polite crowd. Perry again was asked about his controversial 2007 decision to require that girls entering the sixth grade be vaccinated against HPV, the most common sexually transmitted disease and the principal cause of cervical cancer. The governor again acknowledged he made a mistake by making the vaccine mandatory and said he had learned his lesson.
Perry also shared that he felt global warming was an issue that had become "politicized" and that he didn't think he'd want the country to spend money on what is "still a scientific theory that has not been proven."
Have a look at footage from the event, courtesy of Fox News:
Have a tip we should know? tips@mediaite.com