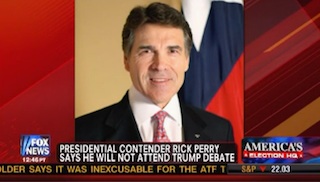 Imagine this; you RSVP to go to this party because you think your friends are going to be there but then it turns out no one's going and you're going to be stuck hanging out with the weirdo host no one likes and everyone only tolerates because he's rich. Pretty awful, right? Well, that's the way Newt Gingrich and Rick Santorum must feel now that Rick Perry has become the latest GOP presidential candidate to turn down an invitation to the Donald Trump-moderated debate.
RELATED: RNC Chairman Reince Priebus Calls Trump Debate 'A Problem', GOP Candidates Should Be Concerned About It
From the Washington Post:
"'Gov. Perry has talked to Donald Trump in recent days and respects him and the folks at Newsmax very much,' Perry communications director Ray Sullivan said in a statement. 'Traditional retail campaigning in the days and weeks leading up to the Iowa caucus is the Perry campaign's top priority.'

Former Massachusetts governor Mitt Romney and former Utah governor Jon Huntsman have already declined the invitation. Rep. Michele Bachmann (R-Minn.) is undecided. Former House speaker Newt Gingrich and former Pennsylvania senator Rick Santorum (Pa.) are planning to attend."
I guess Gingrich and Santorum are just gonna have to suck it up and hope Trump has some cool new video games they can play. Oh, and they better pray that none of the cool kids find out they're going. It'll totally ruin their reputation.
Watch a news report on Perry's decision from Fox News below:
Have a tip we should know? tips@mediaite.com