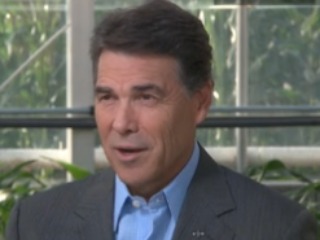 Texas governor Rick Perry stopped by John King USA to offer his reaction to Mark Block's recent allegation that his campaign had a role in leaking information about Herman Cain's sexual harassment charges to the media. Block, you'll recall, recently pointed a finger at Curt Anderson, a former Cain employee who is now part of Perry's campaign, adding that Perry and his staffers owe an apology to Cain, his family, and to the American people.
RELATED: Fox News Panel Reacts To Mark Block's Allegations Against Perry: 'Who Cares?'
Perry seemed unfazed by Block's accusation, telling host John King that "no apology is needed:"
No apology needed. We found out about this the same time that I suppose the rest of America found out about it, both on the internet or the next day in the news. So, you know, I don't know how to tell any other way except knew nothing about it, sir.
When asked whether he prodded his staffers on whether they might have had some role in leaking the story, Perry said he is confident that they "didn't need to be asked," and, what's more, they're going to continue focusing on the things that matter:
They didn't need to be asked if someone is spreading those types of malicious rumors. So our campaign didn't have anything to do with it. And we're going on and talking about our tax plan and about how to get Americans back working.
Have a look at the segment, courtesy of CNN:
Have a tip we should know? tips@mediaite.com