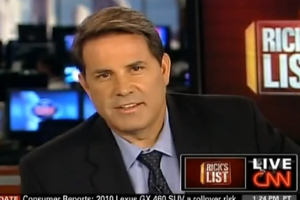 Rick Sanchez was outraged on his afternoon program today. I know what you're thinking, but this time he had a legitimate reason– and delivered one of the most graceful take-downs of an unabashed racist since the head of the Sons of Confederate Veterans debated Roland Martin.
The racist in question is, unfortunately for conservatives, the head of the Springboro, Ohio Tea Party movement. His name is Sonny Thomas, and he would like all his Twitter followers to know that he is not comfortable with the amount of Latin Americans surrounding him lately. He tweeted: "Illegals everywhere today! So many sp— make me feel like a speck. Grrr. Where's my gun?!"
Sanchez, who himself is Cuban-American, contacted Thomas for an explanation, and his attempt to get out of this tweet (since deleted from his account) was even more shocking that the tweet himself. He claimed that the tweet originated from his current music playlist, where the Bee Gees' "Spicks and Specks" was on heavy rotation.
Sanchez handled the response perfectly, making some classic facial expressions of disgust at the man and shows genuine offense when he repeats, "he's blaming this on the Bee Gees." Watching Sanchez mature out of his cookie-cutter outrage or feigned dismay wonderful for viewers and even better, one imagines, for those who bet on him in CNN. is At the very least, it redeems him from the time he told a scientist to translate a meter measurement into "English."
It's also a reminder of when having a correspondent of the offended group can lead to a much more profound commentary on the given offense. Rachel Maddow's conversations with Lt. Dan Choi that revealed him to be gay and elevated him to be the most credible gay rights activist of his generation are a classic example, and, as previously mentioned, CNN's African-American correspondents– most notably Roland Martin– demonstrated this perfectly during Bob McDonnell's regrettable Confederate History Month controversy. But rarely does the Latin American community get the similar satisfaction of seeing one of their own credibly destroy a racist argument against them.
Watch the clip below:

This is an opinion piece. The views expressed in this article are those of just the author.