Rick Santelli And CNBC Panel Get Into Crazy Shouting Match Over Unemployment Numbers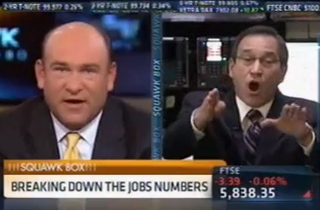 On this morning's edition of CNBC's Squawk Box, reporters Rick Santelli and Steve Liesman got into an epic shouting match over the former's suggestion that the recent 7.8% unemployment figure may have been an intentional election-year manipulation by the administration.
Host Joe Kernen interrupted Liesman's rant disputing the anti-BLS charges to give Santelli a shot, saying he was "tired of listening to you," which prompted Liesman to angrily say: "That's pleasant. That's good stuff, Joe."
Santelli ranted about the poor state of the economy, despite the decrease in unemployment, and then added that he had predicted months ago that the September jobs report would be below 8%, implying the administration would fudge the numbers for positive press just before the election. "Take it any way you want!" Santelli said.
"Rick, what you're implying with your comment…" Liesman interrupted.
"I'm not implying anything," Santelli shouted back. "I'm telling you and it turned out that way. I'm a market whisperer."
"Why say it?" responded Liesman. "It was the same point Jack Welch made."
"Because it's true! I like people to get the benefit of my 32 years in the market. There was no doubt it would be under 8 percent."
"Why did you have no doubt, Rick?" Liesman pushed Santelli, attempting to get him to say he believed long ago that the administration would cook the books for positive jobs numbers.
At this point, Kernen audibly muttered "Oh, shit," reflecting an understanding of the hell that was about to break loose.
The two proceeded to shout back and forth at one another for the next two minutes, before the segment finally dwindled down and Sorkin calmly said "Let's leave it at that if we could."
Watch the madness below, via CNBC:
— —
>>
Follow Andrew Kirell (@AndrewKirell) on Twitter
Have a tip we should know? tips@mediaite.com