Rick Santorum And Michele Bachmann Surprising Voices Of Reason At Republican Debate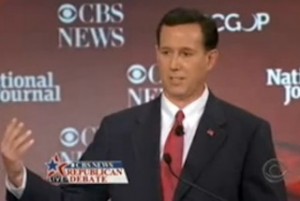 We've come to expect people like Ron Paul and Jon Huntsman to inject reality into the Klingon High Council meeting that is any GOP discussion of foreign policy, but at Saturday night's Republican presidential debate, the reality check came from unexpected sources. At least on the issue of Pakistan, Rep. Michele Bachmann and former Sen. Rick Santorum torpedoed the chest-thumping of their rivals with bewildering clarity.
Texas Gov. Rick Perry made news Saturday night with his suggestion that the US foreign aid budget start at zero every year, but it was embattled pizza magnate Herman Cain who first took a stab at moderator Major Garrett's question, "You have said about foreign policy, 'America needs to be clear about who its friends are and who its foes are.' So this evening, sir, Pakistan, friend or foe?"
Cain drew laughs from the crowd, and rival Mitt Romney, by replying, "We don't know."
Texas Gov. Rick Perry followed Cain by suggesting that all foreign nations (including Israel) come to the US, hat in hand, to sing for their foreign aid supper every year. "The foreign aid budget in my administration for every country is gonna start at zero dollars," Perry said. "Zero dollars. And then we'll have a conversation. Then we'll have a conversation in this country about whether or not a penny of our taxpayer dollar needs to go into those countries."
Surging former House Speaker Newt Gingrich agreed with Perry, saying "what he (Perry) said made absolutely perfect sense."
This is where an experienced political journalist like Major Garrett comes in handy, because he seemed to intuit that this question would be a good one for Rep. Bachmann. Garrett seemed to know that, despite the temptation to throw red meat, Bachmann's experience in Congress might bleed through into a reasonable answer.
He asked her if she agreed with Perry on foreign aid to Pakistan, and for her assessment of the intelligence situation in Pakistan. Like a mere mortal suddenly given the gift of tongues, the woman who claimed that the HPV vaccine can give you mental retardation delivered a succinct, searing rebuttal to Perry.
"Pakistan is a very difficult area," Bachmann stated,  "I would not agree with that assessment to pull all foreign aid from Pakistan…because Pakistan has a nuclear weapon. We have more– people affiliated with Al Qaeda closer to that nuclear bomb than in any nation. This is an extremely important issue."
Her nonsensical Israel-baiting aside, Bachmann casually nailed it on Pakistan, as did fellow second-tier candidate and reliable red-meat-vendor Rick Santorum, who served Perry, Cain, and Gingrich like a Denny's Grand Slam breakfast. "I disagree with a lot of what was said up here," Santorum said. "Pakistan must be a friend of the United States, for the reason that Michele outlined. Pakistan is a nuclear power."
Apparently referencing Cain's response, Santorum said, "we can't be indecisive about whether Pakistan is our friend. They must be our friend… we must engaged them as friends, get over the difficulties we have, as we did with Saudi Arabia, with respect to the events of 9/11.The terrorists came from Saudi Arabia. And we said, 'What– you know what? It's important for us to maintain that relationship, in spite of those difficulties.'"
Santorum also scored some sanity points elsewhere in the debate.  On the subject of Iran, Newt Gingrich called for "maximum covert operations– to block and disrupt the Iranian program– including– taking out their scientists, including breaking up their systems. All of it covertly, all of it deniable."
He sounded a lot like a guy complaining that he couldn't see the participants at the Ninja Parade (that's the point: you're not supposed to see them, they're ninjas). Later in the debate, Santorum demonstrated a grasp of this fact, saying, "there have been scientists turning up dead in Russia and in Iran. There have been computer viruses. There have been problems at their facility. I hope that the United States has been involved with that. I hope that we have been doing everything we can covertly to make sure that that program doesn't proceed forward."
Setting aside his distasteful (to put it mildly) positions on social issues, Santorum has consistently made the most of his brief exposure at the debates (perhaps because they have largely eschewed social issues).
Bachmann's and Santorum's responses fit into a larger observation of this debate, and the Republican field. The people who make the most sense on foreign policy (that's a relative term) are those who actually have some experience at it. Bachmann, Ron Paul, and Santorum are all current or recent members of Congress, and Jon Huntsman was the US Ambassador to China.
Cain, Perry, and Romney barely have the foreign policy chops to eat a continental breakfast, and Gingrich is as far removed from his time in Congress as he is from wearing parachute pants. That bright line shows in the way the candidates answered this question.
Here's the Pakistan portion of the debate, from CBS News:
Have a tip we should know? tips@mediaite.com