Rick Santorum Can't Tell Wolf Blitzer How President Paul Would Differ From Obama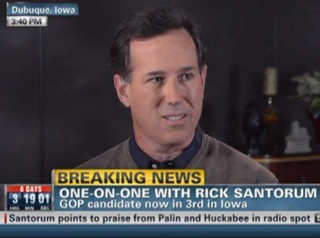 With Rep. Ron Paul inching towards the Iowa caucuses in the top position, Wolf Blitzer's favorite question for his rivals for the Republican nomination, given Rep. Paul's foreign policy views, has been to ask whether they can support Rep. Paul should he be the Republican nominee over President Obama. Newt Gingrich intimated that he may not be able to, while Mitt Romney could. Today, Rick Santorum got his turn, but in explaining that he would, he couldn't seem to articulate a good reason why.
RELATED: Gingrich To Wolf Blitzer On A Paul/Obama General Election: 'A Very Hard Choice'
Blitzer opened up the subject of Ron Paul by noting that Iran was a "big issue" for Santorum, which he acknowledged, and asking whether he believed a Paul administration would be "dangerous." "My concern is that Ron Paul would walk in on day one and pull all our troops back and bring them back to this country and leave and enormous void around the world," Santorum responded. With that on the table, Blitzer then asked if he could vote for him. "Absolutely," Santorum replied, adding that he hoped "enough pressure can be brought to bear on him if be becomes president that he won't make these horrific decisions." Blitzer was a bit skeptical of the idea of Rep. Paul being pressured into anything, and Santorum reiterated that he would "have to take a lot of antacids" when voting for Rep. Paul, but that he would do it.
Another thing Santorum argued was that "A second Barack Obama term, I'm not too sure will look that different from a Ron Paul administration." Blitzer cornered him on this issue and asked whether Santorum believes Rep. Paul would have sent in drones to kill Osama bin Laden. Santorum did not, which made Blitzer confused as to how that would make him a better candidate than President Obama. "I don't think he'd be markedly different," Santorum replied.
The exchange via CNN below:
Have a tip we should know? tips@mediaite.com