Rick Santorum Corrects Soledad O'Brien: Billionaire Donor Foster Friess 'Doesn't Run My Super PAC'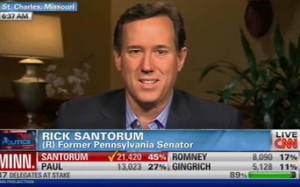 Fresh off his Tuesday night wins, GOP presidential hopeful Rick Santorum visited Starting Point's Soledad O'Brien to explain his strategy… and issue a couple of corrections.
O'Brien noted that Santorum has but $1 million in "cash on hand" — a small amount compared to Mitt Romney's $19 million. Is he expecting a "pile-on" of negative ads funded by this money?
"In Minnesota and Colorado they both spent more money than we did on the ground and direct mail and in other ways," Santorum said, referring to Romney's campaign. "Robo-calls. We know lots of folks received a lot of nasty robo-calls from the Romney campaign. They were running, you know, underground type of campaign. We understand that. We were right aboveboard talking about the issues and we feel very, very comfortable that money isn't going to — if money made the difference we wouldn't have won four primaries so far."
RELATED: Game Changer? Rick Santorum Wins Colorado Caucus
Santorum also took time to address Romney's assertion that he'd make the ideal Republican nominee because he hasn't spent time in D.C. A grinning Santorum recalled running for Senate at the same time Romney did. "Well," he replied, "it's funny because I ran for the United States senate the same year Mitt Romney ran for the United States senate. We both ran in 1994. I won and he lost. It's not that Governor Romney didn't want to be Senator Romney. He tried to be Senator Romney but he ran as a very liberal Republican in Massachusetts, who had just become a Republican, and he lost."
Later, O'Brien mentioned conservative businessman Foster Friess, saying that "he has been bankrolling your Super PAC" and asking whether that sends "a bad message to people."
Santorum attempted to clarify Friess' involvement:
No. I mean, Foster doesn't run my Super PAC. He may be a donor to it, but the person who runs my Super PAC I haven't spoken with in five months. So as far as the conversations we have, Foster has been a long personal friend for 20 years. And we have spent a lot of time together. But we also know what the law is and Foster doesn't run the Super PAC and we don't talk about anything regarding those matters. So he's someone, again, who is a friend and will continue to be a good friend.
O'Brien also asked Santorum about his "sick child."
"Well," he said, "she's not a sick child. She was sick this past couple of weeks ago, but she's not sick."
Have a look, via CNN:
Have a tip we should know? tips@mediaite.com