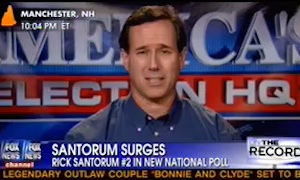 Did Rick Santorum really win the Iowa caucus? According to a notarized statement by Ron Paul supporter, Edward True, errors were made in the tallying, and Santorum may have, in fact, gotten more votes than Mitt Romney, after a 20-vote error in the caucus results from Appanoose County was discovered. Santorum, though, appeared on Fox News' On The Record With Greta Van Susteren and actually countered this report by claiming there was also a 21-vote mistake in Romney's favor from a different county:
"Here's what I know — having talked to the chairman Matt Strawn, who is the chairman of the Republican Party of Iowa — that all these counties are going to be reporting in. They're going to be certifying . . . that there was one county where there was a 20-vote mistake in my favor… but there was a 21-vote mistake in Romney's favor — so it actually netted out to what I understand is a one-vote difference.

But that doesn't really matter to me — I mean . . . this was a tie. And we came from, you know, 4 or 5 points two weeks before the election and ended up with 25 points. So I look at it this way: Let's see what the polls look like in New Hampshire here by the end of the week."
In short, this is a rare treat. A national candidate goes on a one of the highest-rated cable news programs in America, and counters reports that he won an election by sharing proof that he didn't.
Still, National Review's Jim Geraghty provided Strawn's official statement.
"Iowa GOP rules provide for a two-week certification process for each of the 1,774 precincts. The Iowa GOP will announce the final, certified results of the 2012 Iowa Causes following this process. Out of respect to the candidates involved, party officials we will not respond to every rumor, innuendo or allegation during the two week process. That said, Iowa GOP officials have been in contact with Appanoose County Republican officials tonight and do not have any reason to believe the final, certified results of Appanoose County will change the outcome of Tuesday's vote."
Watch Santorum downplay reports he actually won below the Iowa Caucus below, via Fox News:

Have a tip we should know? tips@mediaite.com