Santorum On Controversial Puerto Rico Comments: They Should Be Fluent In Spanish AND English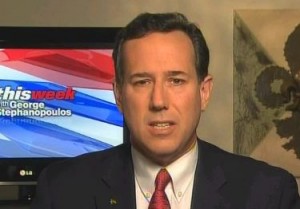 Rick Santorum has been under fire for his comment that if Puerto Rico wants to become a U.S. state, English needs to be the "main language" first. In the wake of tonight's primary in the island territory, Santorum defended himself on ABC's This Week today, telling guest host Jonathan Karl that he doesn't actually think that should be a requirement, but did say that the citizens of Puerto Rico should be able to speak both English and Spanish.
RELATED: Geraldo To O'Reilly: Santorum 'Torpedoed His Campaign' In Puerto Rico With English Comments
Karl pointed to Santorum's claim that making English the official language of the United States is a requirement for statehood, and said that as far as he can tell no such requirement exists. Santorum argued that making English the primary language was a factor in admitting certain states. He cited statistics saying less than one-fifth of Puerto Ricans speak English fluently, but he acknowledged that it's a Spanish-speaking territory and he doesn't want to take that away from them. He told Karl, "What I've said is that, you know, there should be fluency in English as well as Spanish."
Santorum also took the time to hit Mitt Romney for flip-flopping on the issue of making English the official language of the United States in an attempt to pander to Puerto Rican voters.
"Governor Romney and I have both said that we would like English as the official language of this country, and yet when Governor Romney went to Puerto Rico, he said, 'Oh no, you don't have to speak English if you come into… as a requirement to be a state.' Yet he wants English to be the official language of this country. This is the hypocrisy of Mitt Romney to go and pander for votes."
RELATED: Romney Supporter On Mitt's Response To Santorum Puerto Rico Gaffe: 'A Little On The Snobby Side'
One of the big questions surrounding this debate is just how much English is already spoken in Puerto Rico. The United States Council for Puerto Rico Statehood covers this on its website, listing a number of reasons why the argument is a "red herring." Here are some of them:
English is already an official language on the island, as is Spanish
English is a required subject in public schools through high school
English is the only language of the Federal Court system and all U.S. government agencies in Puerto Rico and is the common language in banking, commerce, real estate and the tourism industry
Santorum's clarification, however, makes his position more in line with the council's, because they also agree that "learning English as well as Spanish just makes good sense."
Watch the video below, courtesy of ABC:
Have a tip we should know? tips@mediaite.com
Josh Feldman - Senior Editor