Rick Santorum Fires Back On Hannity: 'My 12-Year-Old Will Out-Reason Bill Maher'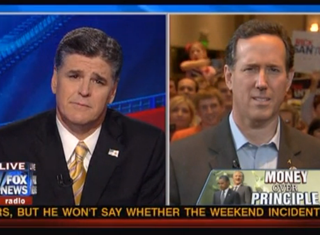 Rick Santorum dropped by Hannity tonight live from his headquarters before tomorrow's Alabama/Mississippi primary to discuss his strategy tomorrow, how he feels about the election and, in passing, how he feels about the comments made about his home-schooled children being locked up in a "Christian Madrassa" by Bill Maher. After making a super-retro "arugula" joke, Santorum challenged not just Maher's style but his logic, declaring the Democrats "the party of emotion.
RELATED: Bill Maher: Taliban Wants To Go Back To 8th Century, Christian Right Wants To Go Further Back
Noting that he had a bit of trouble making his Alabama grits taste delicious, Santorum joked to Hannity that "I didn't order arugula when I was there," which would've been a hilarious joke in August 2007. Hannity then switched gears to Maher, playing his comments and asking for a response. Santorum attacked not just Maher but the media. "There wasn't an interview that went by last week that I wasn't asked a question about Rush Limbaugh," he noted, while Maher got a pass. If you "dare teach faith in your home," Santorum argued, "you're a madrassa according to these folks, as if reason doesn't take place in the home" (shhh, no one tell Santorum what the word "madrassa" means). "My 12 year old will out-reason Bill Maher," he joked.
Santorum also used what sounds like a brand new line of attack on the non-libertarian right: "they are the party of emotion," he said of the Democrats, claiming that, with Maher, "they have abandoned not just faith… but reason too, they are pure emotion." Given that those who believe in intelligent design or attack the President for Obamacare's "death panels" have taken the brunt of the attack for being unreasoned, the table-turning was both unexpected and surprisingly effective, at least in terms of choosing language that hits at the heart of everything Bill Maher finds insulting. That said, it wouldn't be wise to put money on Maher relenting his attack anytime soon.
The segment via Fox News below:

Have a tip we should know? tips@mediaite.com