Rick Santorum Responds To Calls For Him To Quit, Tears Into Gingrich And Romney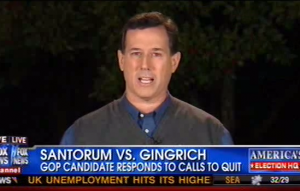 Rick Santorum made a quick appearance on Fox & Friends Wednesday morning — sporting his signature sweater vest — and came out swinging against both Newt Gingrich and Mitt Romney.
Prompted to talk about Newt Gingrich's comments from Tuesday, suggesting Santorum and Rick Perry should both drop out, Santorum pointed out that Gingrich hailed from one of the most conservative districts in Georgia (making his elections virtual cake walks), while he's won in two Democratic districts and wide senate elections in Pennsylvania as a conservative.
"I've put together much, much bigger campaigns than Newt Gingrich ever conceived of doing," Santorum said. "And by the way, let's look at the record of his campaign. I'm 2-0! I beat Newt Gingrich in Iowa by a lot — I doubled his vote total — I beat him in New Hampshire where he had the Union-Leader endorsement and spent millions of dollars. The proof is in the pudding."
Santorum then went on to suggest Gingrich had irresponsible policies and has made irresponsible statements:
"You want someone who is solidly conservative, who you're not going to wake up in the morning and look at the newspaper and say, 'Oh my gosh, he didn't say that, did he?'"
Host Brian Kilmeade then brought up Romney, and while Santorum used the opportunity to talk about tax code improvements, he interrupted a follow-up question to add, "The thing that is the difference, Brian, is to make a statement that, 'I made a couple of extra bucks giving speeches,' when that 'couple of extra bucks' was over $300,000. That, to me, says a little bit more about Governor Romney and his connection with the American people than his tax rate."
"You're saying because he made a lot of money, he doesn't understand what the American people go through?" Kilmeade asked.
"No, but," Santorum responded, "to refer to three hundred-some-thousand dollars as 'a few extra bucks,' to me… $300,000 isn't a few extra bucks to me!"
Watch a clip of the interview below, courtesy of Fox News:
Have a tip we should know? tips@mediaite.com