Rick Santorum Introduces His Official $100 Campaign Sweater Vest On OutFront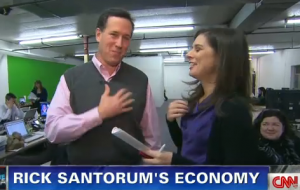 Republican Presidential hopeful Rick Santorum has made a name for himself for his constant sporting of a sweater vest on the campaign trail. Now, his campaign is seizing the opportunity and offering embroidered "Santorum 2012" sweater vests as a clever fundraising effort.
During an interview with CNN's Erin Burnett on Monday's OutFront, Santorum revealed that anyone donating $100 or more to his campaign will get an official sweater vest in return.
"Hundred dollars? My gosh!" Burnett remarked.
"Well, it's…a part, you know, campaign donation, and part being with the vest!" Santorum replied. He then added:
"One of my supporters said this is my second amendment vest… the right to bare arms."
After noting that everyone at CNN was rolling their eyes at the comment, Burnett said that she heard sales at Jos. A. Bank were up, thanks in part to the surging popularity of the sweater vest. Santorum added that his team was in the process of finding vests that were made in America, then embroidering them and sending them to those who donate.
"Alright," Burnett said. Then asked one more time, "A hundred bucks?"
"Well come on!" Santorum laughed. "Help me out a little bit! You want to participate in it, you've got to help us."
For those interested in getting their hands on this soon-to-be-legendary piece of American history, there is a page on Santorum's website where you can donate and finagle yourself your very own official "Rick Santorum For President" sweater vest. "Perfect," the site reads, "for demonstrating solidarity with true conservatives."
Watch the clip below, courtesy of CNN:
Have a tip we should know? tips@mediaite.com