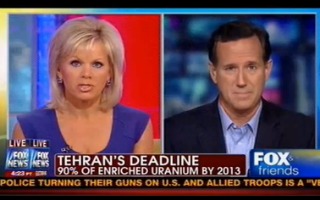 Former presidential hopeful Rick Santorum appeared on Fox & Friends early Monday morning, where he weighed in on Israeli PM Benjamin Netanyahu's recent remarks regarding Iran.
"Israel cannot, for its own existence, have a policy similar to the United States' policy," said Santorum. "The United States is Iran will not get a nuclear weapon and then we do virtually nothing to stop them to do it. That is the most dangerous policy because it tells our enemies not to fear us because we don't mean what we say and it tells our allies not to trust us because we don't mean what we say. And the Israelis have to stand by and do something. And I believe that President Obama is actually forcing their hand to do something sooner rather than later. And because he has distanced himself so much from the state of Israel, they can not have any confidence in Israel that the President will stand with them after the election. So they're almost in a position now where they're forced to do something before the election in order to force President Obama's hand to stand with them because not doing so would be electoral disaster."
When host Gretchen Carlson asked about criticism Netanyahu has received for putting Obama in a "tight spot," Santorum maintained that this is the only way he can ensure that the President won't "turn his back on" Israel, adding that the President ignores allies while working to appease enemies.
Carlson then changed the topic to a new film Santorum is involved in called Our Sacred Honor, which takes a look at "the profound and beautiful ideas contained in our founding document."
Watch, via Fox News:
Have a tip we should know? [email protected]