Rick Santorum And CNN's Candy Crowley Battle Over Iran And Definition of "Appeasement"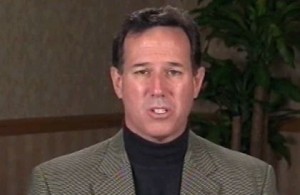 Rick Santorum appeared on CNN's State of the Union earlier today, and he addressed his accusation least week that the Obama administration engages in appeasement. The president responded by suggesting people ask Osama bin Laden and other terrorists he's killed under his administration if he favors appeasement. When Candy Crowley took issue with how Santorum was accusing Obama of appeasement, Santorum incredulously interrupted to tell Crowley she wasn't being accurate.
Crowley played the two clips of Santorum's accusation and Obama's response, and explained to Santorum that more terrorists have been killed and more drone attacks have been launched under the Obama administration than under the Bush administration, but Santorum denied this was what he meant by appeasement. Santorum claimed to not count the continuance of Bush policies as appeasement, as he was merely referring to "new threats" that have risen under the Obama administration.
Santorum cited Iran as "the biggest threat to Israel and… to our national security." Crowley interrupted to say that Obama had supported sanctions, but Santorum dismissed the notion Obama has supported any real, "meaningful sanctions." As president, Santorum pledged to "fund the pro-democracy movement" in Iran, and would insist Iran open up its nuclear facilities to inspectors.
RELATED: Donald Trump Predicts President Obama Will Launch War With Iran To Get Elected
Crowley returned to the issue of sanctions, and tried to explain that President Obama was in favor of imposing sanctions, but Santorum interrupted her and said "that's just not true." He patiently explained that Obama has not favored the kind of sanctions on Iran that many others in Congress have called for.
"Ask Robert Menendez and ask all the folks in the United States Senate who want to impose the real sanction that will make a difference on Iran and the president has opposed it. Now that's just a fact. He also has recognized the state of Syria, called Assad a reformer, has continued to have an embassy there, when in fact this is a real thug that is a real threat to the state of Israel and to the stability of the region."
Watch the video below, courtesy of CNN:
Have a tip we should know? tips@mediaite.com
Josh Feldman - Senior Editor