Rick Santorum Takes On Newt Gingrich's 'Worrisome Moments': 'These Are Not Cogent Thoughts'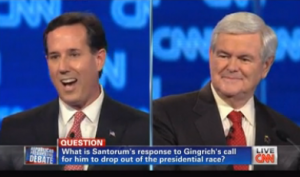 Have you been watching this debate, people? Hoo boy. At one point, moderator John King asked Rick Santorum to respond to Newt Gingrich's assessment that he and former candidate Rick Perry would do well to drop out of the race, citing their lack of "knowledge" to do anything on a grand scale.
"Grandiosity has never been a problem with Newt Gingrich," Santorum replied. "He handles it very, very well." The crowd ate it up like candy. "For him to suggest," he continued, "that someone who was tied for first and eventually won the Iowa caucuses and finished with twice as many votes as he did and finished ahead of him in New Hampshire in spite of the fact that he spent an enormous amount more money in both those places, plus had the most important endorsement in the state — the Manchester Union Leader — and I was 10 points behind him in the week before the election and finished ahead of him. So, I was 'two and oh' coming into South Carolina, and I should get out of the race? These are not cogent thoughts."
RELATED: New Mitt Romney Ad Calls Gingrich Undisciplined, Says He 'Helped Re-Elect A Democratic President'
He added that Gingrich has the odd "worrisome moment" from time to time. Later, he attacked Gingrich for not being able to follow through on "grandiose" projects, as a president should, citing how "undisciplined" he'd been as House Speaker before having been tossed out.
"[T]his freshman congressman," he continued, "who wasn't supposed to win a race, came and did something you never did, which is blew the lid of the biggest scandal to hit the Congress in fifty years. You knew about it for ten of fifteen years because you told me you knew about it. And you did nothing."
Have a look, via CNN:
Have a tip we should know? tips@mediaite.com