Rick Santorum Talks Romney, Gay Marriage, Porn And Sweater Vests With Jay Leno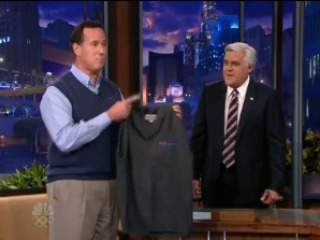 Former GOP presidential hopeful Rick Santorum paid a visit to Jay Leno's show Tuesday night, where he was asked about his email endorsement of former rival Mitt Romney as well as about same-sex marriage.
Clad in his signature sweater vest (and after having given one to Leno as a gift), Santorum described his late-night email — where he offered an endorsement to Romney around paragraph 13 — as "a letter to my supporters, who were for me to say, 'well, here is now why i think we should, you know, rally around Mitt Romney and support him.'" Leno then reminded Santorum that he'd once referred to Romney as "the worst Republican we could have against Obama. "Well, I said that with respect to the issue of ObamaCare," Santorum clarified. He also shared that he'd sent the email late at night so that it'd be the first thing people talked about the next day.
RELATED:Joe Scarborough Bashes Rick Santorum's Tepid Romney Endorsement: 'Be A Man'
In the second part of their interview, Leno got the socially conservative Santorum talking about same-sex marriage, with Leno telling him that even if Romney and President Obama might say they're against gay marriage, Santorum is really against him.
Santorum explained that a man and a woman each play unique, necessary parts when it comes to a relationship or parenting and that, as he sees it, the best thing for children is to have one mother and one father. Later, he clarified that while contraception definitely goes against his religious beliefs, he'd never vote for a ban on contraception.
Leno joked that Santorum lost the male vote by suggesting a ban on pornography. Santorum laughed good-naturedly, but soon turned serious when discussing what makes up American "culture," which he sees as being ultimately in peril when faced with issues like pornography.
Have a look, via NBC:
Part I
Part II
Have a tip we should know? tips@mediaite.com