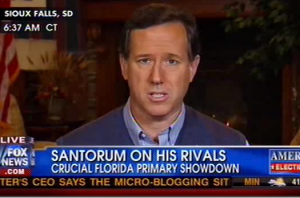 GOP hopeful Rick Santorum was a guest on Fox & Friends Tuesday morning, and gave new meaning to the phrase "The Lord works in mysterious ways," thanking the national media for "bugging" him to release his tax returns. "Had I not done that, I wouldn't have been home" to care for daughter Isabella during her recent health crisis.
At a recent debate, Santorum told moderators he would release his taxes next time he got home, because he does them himself, and are on his home computer.
"When we spoke to you last," Co-host Steve Doocy said, "you were headed home to do your taxes because you're the guy who does your taxes, and then something happened. Your daughter Bella got very, very sick and that derailed everything. How is she doing?"
"Thank you so much," Santorum said. "She's doing very well. I want to thank everybody out there for all those prayers. They really made a difference for Karen and me, and obviously for Bella. She had a very tough 36 hours and what a blessing it was."
"You know, I hate to do this," Sen. Santorum added, "but I want to thank the national media for bugging me to get my taxes done and get them out because had I not done that, I wouldn't have been home. And I was just blessed to be home at a time when, you know, your family needed you and it was a very tough, tough time, but she's through the worst and we're optimistic she'll be out of the hospital in a couple of days."
RELATED: "Rick Santorum Responds To Calls For Him To Quit, Tears Into Gingrich And Romney"
For what it's worth, there may have been reporters asking Sen. Santorum about his tax returns, but his debate response was generally well-received by the political media, and seen as a positive for the candidate. In any case, it is an undeniably good thing that he was home for his daughter's crisis, and that she seems to be on the mend.
Santorum went on to discuss the state of the Republican race, and Newt Gingrich's idea that he should drop out in order to clear the way for the former Speaker to do battle with Mitt Romney. "I don't think people should be telling other folks to get out of the race and get out of my way. If you want to run a race, run a race, you don't ask someone to quit just because, you know, you think you're the better candidate. I think I'm the better candidate, but Newt has every right to run, and he should run."
Asked about a possible Donald Trump run for president, Santorum quipped "You know, what day is it?"
He added "I can't be diverted about someone who is obviously focused on promoting himself and promoting his brand."
Here's the clip, from Fox News:


Have a tip we should know? tips@mediaite.com