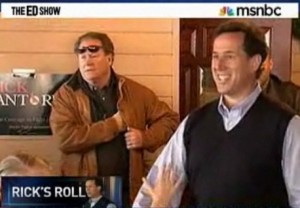 Viewers of Thursday night's opening Ed Show segment might have done a double-take as Ed Schultz introduced a segment on surging GOP hopeful Rick Santorum when it looked like the host showed up in some b-roll of a Santorum town hall meeting. But sure enough, Ed was there, and conducted a surprising interview with the socially conservative former Senator that had Schultz wondering if Santorum could be a threat to win Iowa.
Sen. Santorum has come on strong in Iowa polls this week, and in a volatile Republican field, is well within striking distance of the lead. His surge is particularly well-timed, with scant days to go before the Iowa caucuses, and lots of social conservative support up for grabs. It's that harshly-expressed social conservatism, though, that makes Santorum a primo bogeyman to the left, which is what made Schultz's interview with, and assessment of, Santorum so impressive.
Conservatives could be forgiven an eyeroll when Schultz told his audience, "You know my political persuasion, but I bring this story to you tonight completely objective from Iowa," but his assessment of Santorum was dead-on. "On the stump, Rick Santorum is impressive," Schultz said. "He is well versed, schooled up, and very strong in his conviction."
Schultz even went so far as to say, of Santorum, that "there are few on the stump who do a better job of retail politics."
He followed up his qualified praise of Santorum by conducting a good, fair interview with the candidate, and in his trademark nightly poll, asked viewers if they thought "the other Rick" could pull off an upset in Iowa (they didn't, but Santorum fared better than most Ed Show poll answers).
Even more surprising, perhaps, is the fact that I agree 100% with Schultz. Although I would sooner vote for a roll of Bounty™, the things I dislike about Santorum should actually help him with conservatives, and he has several key advantages over his chief rivals for the powerful social conservative vote in Iowa. Unlike Rick Perry, Santorum has been an unsung success at this year's GOP debates, often making sense when others don't, and making the most of his limited screen time.
In their zeal to dismiss Santorum as a joke, many liberals miss his appeal as a conservative candidate. To people who don't mind a gay-hostile, vehemently anti-choice candidate, Santorum possesses an essential likability that his rivals lack. I interviewed Santorum in February (where, again, he surprisingly agreed to be interviewed by a volcanically flaming liberal), and there were two things that struck me about him, that set him apart from the other candidates I've met. First of all, I was a little bit annoyed that I liked the guy, but more than that, I believed what he was telling me. Santorum doesn't speak in canned talking points.
Santorum's biggest obstacle is the fact that he has no shot to beat Barack Obama, but that's not such a problem in Iowa. Given the seismic shifts this race has already seen, I wouldn't count Santorum out.
Here's the clip, from MSNBC's The Ed Show:
Have a tip we should know? tips@mediaite.com