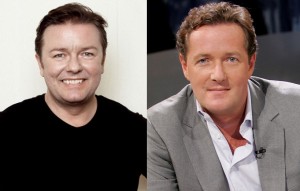 With heaps of promotional and marketing winds helping it set sail, Piers Morgan Tonight launches tonight, with a slate of guests in its first week that would make any cable news booker blush. Tonight's show opens with Oprah Winfrey, followed later in the week by Howard Stern, Condi Rice and George Clooney. But its Thursday night's guest, Ricky Gervais, that is suddenly looking like the smartest and most interesting booking of the lot after his turn hosting the Golden Globes raised a nation's eyebrows (and Hollywood's dander?)
For those that admirably ignore such things as Hollywood award shows, Gervais appeared to verge dangerously close to performance art-cum-career-suicide in his opening monologue in last nights Golden Globes. There was no cow sacred enough for the quick witted Brit to slay, as he openly mocked gay Scientologists among many, many others. At one point the Twittersphere that was actively following the award show wondered if he'd been canned half-way through the show — it was that uncomfortable.
Which leads us to Gervais' fellow countryman Piers Morgan, who some believe has massive shoes to fill tonight in replacing legendary CNN host Larry King. Those of us who follow cable news closely know that Morgan cut his teeth as a respected journalist in his native Great Britain, though most American television viewers probably only recognize him as a judge in the wildly popular (if not sort of dopey) competitive reality show America's Got Talent.
One would like to think that Morgan (and his dream team of producers) recognized that Gervais would be coming off of hosting the Golden Globes, and would suddenly be spiking in the entertainment zeitgeist. And you know what? I wouldn't put it past them. Because thus far, nearly every step that Morgan and his team have taking in both putting their show together and promoting it, has been nearly pitch perfect. Which ultimately leads us to why this writer is very much looking forward to the Piers Morgan experiment on CNN.
The secret that Morgan is a well-regarded interviewer is likely to soon get out, but unlike other journalistic lions that are also considered masters of the Q&A, Morgan has demonstrated both a quick-witted facility and a fluency in pop culture, which should set him apart from his peers. His can be the opinion-media program that is NOT about politics (thankfully), but still plays on the margins of what should or should not be said on television. Further, one can reasonable expect that Morgan is comfortable creating two sorts of show: smart programming for smart people, as well as dopey programming for smart people. (And who doesn't honestly prefer the later to the former?)
As a relative unknown to the masses of American viewers, Morgan will also benefit from what would seem like a blank slate that comes from being a host who doesn't exactly have a house hold brand name. Its true that he is replacing Legendary Larry, but Mr. King was getting awfully long in the tooth, so the timing of Morgan's entry into the pantheon of American talk show hosts seems to be very favorable for his success. And the powers-that-be have very hgh hopes for Piers Morgan Tonight — Turner Broadcasting CEO Phil Kent recently stated that he has "very high expectations" for Piers Morgan's upcoming new show." Realistically, the ratings for this show will likely take a little time to build, no one should expect a miracle. But CNN appears to have made a very wise choice for their 9pm anchor, and I expect him to do very well.
Which is actually very, very important for the future of CNN.
Disclosure: Mediaite's former Senior Television Editor Steve Krakauer is the Digital Producer for Piers Morgan Tonight.
Have a tip we should know? tips@mediaite.com