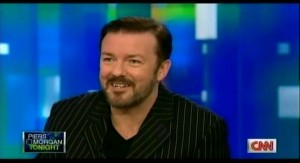 Ricky Gervais' long-anticipated (as of Sunday night) appearance on Piers Morgan Tonight got off to something of an awkward start, with Piers Morgan taking a bit about Gervais having been a "naughty boy" far enough that the force of something like a couple million (we're guessing) simultaneous cringes created a very small earthquake in downtown Los Angeles and several dozen more dead birds plummeting from the sky.
Morgan and Gervais discussed, over a couple of beers, his job hosting the Golden Globes and having the audacity to be funny at actors' expense. Gervais maintained that celebrities – what with their fame and fan following and fancy cars made of gold – aren't bothered by jokes at their expense and, what's more, he isn't sorry for anything he said during the awards. He was hired to do a job – present awards and make people laugh – and, so, that's what he did. He also took time to explain why he doesn't think the jokes he told are particularly shocking:
If your aim is to shock a Christian family in Idaho at 5 o'clock, then that's too easy. And my main aim isn't too shock people at all. I want to make people laugh. I want to do a good job. But on my terms, really. It's not a popularity contest for me.
Most interestingly, we thought, were Gervais' thoughts on those who are offended by his jokes:
No one has the right not to be offended. And, don't forget, just because you're offended, doesn't mean you're in the right.
Watch video, from CNN:
Have a tip we should know? tips@mediaite.com