In Uncomfortable Interview, Rielle Hunter Reveals She And John Edwards Have Split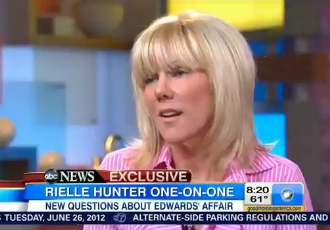 In an uncomfortable interview with ABC's Good Morning America, Rielle Hunter revealed to George Stephanopoulos that, as of last week, she and former presidential candidate John Edwards are no longer a couple. Hunter also struggled to answer the serious criticisms of her new "tell-all" book, mainly the fact that she describes Edwards' late wife Elizabeth in largely negative terms.
Stephanopoulos began by asking Hunter whether she'd still have begun the affair knowing what transpired after the six years that followed. "Would I do that again? No way," she said. "Absolutely not."
Astonished at the fact that this could imply she would give up her daughter by Edwards, Stephanopoulos asked, "So, in the end, even though you got this lovely gift, Quinn, the relationship was a mistake?"
"Many things in the relationship were a mistake. But I don't regret loving him," Hunter responded, not quite answering the actual question.
Hunter also revealed that "as of the end of last week, John Edwards and I are no longer a couple." Why? "Because i'm no longer interested in hiding our relationship."
Given her new book, that's clearly true.
Eventually the conversation turned towards the negative reaction towards Hunter and her new book. "People felt most strongly about what this all meant for the Edwards family, for Elizabeth," Stephanopoulos said. "I want to show one twitter from Joanne Riley. She said it showed very poor judgment to write that book when John Edwards' kids are so small and the wife can't respond. How do you respond?"
Hunter's response: "I think they should read the book…. There's so much misinformation and spin about this story and people form opinions without knowing what really happened."
"But you do say a lot of tough things about Elizabeth in the book," Stephanopoulos challenged her. "You said she had vile rants. You say she was using her children as pawns."
And Hunter began to struggle to answer these criticisms. "Well, taken out of context, I mean, if you read the whole story, and you get to that, you understand — you'll have a different reaction, I believe, than just saying that, like you do."
"Those are quotes from the book," Stephanopoulos pressed.
"But there were three people in this relationship," a clearly flustered Hunter began to respond. "And in order for for me to describe what I went through, I felt that I had to tell the truth because had the — had my inner — I want to say — had the information that I received about their dynamic been different, I may have behaved differently."
"How so?"
"I don't know. I may have done things differently."
"But at the same time," Stephanopoulos continued, "this is going to be a book that is out there in the public. You say you're concerned about the entire family…. How do you think when [Edwards' children] Emma, Claire and Jack, the other kids, when Cate Edwards reads this, how does it help the family?"
"I don't think it serves the kids, including my own daughter, to have people believe that their father's a demon when he's not. And that Elizabeth was a saint because she wasn't. And that I'm a home-wrecker. It doesn't serve anybody."
Check out the interview below, via ABC:
>> Follow Andrew Kirell (@AndrewKirell) on Twitter
Have a tip we should know? tips@mediaite.com