Rihanna's First Interview Since Chris Brown Assault Leads To Huge 20/20 Ratings (UPDATE)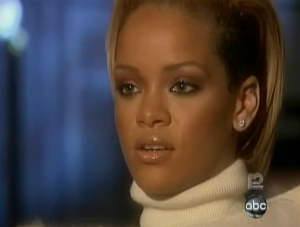 In her first interview since being assualted by then-boyfriend and fellow pop star Chris Brown, R&B singer Rihanna appeared Friday night on 20/20 to give her account of the ordeal and the aftermath to Diane Sawyer. An exclusive preview from the interview aired earlier on Good Morning America, but 20/20 hit the ratings jackpot.
ABC hit #1 in the A18-34 demo with 8.2 million viewers for its biggest numbers in that demo of the past 3 years, according to TVNewser. The number's were also the show's biggest audience in 7 months.
The segment begins biographically about the singer's youth in Barbados, but moves quickly onto the budding romance between Rihanna and Brown, two "supernovas" who met when she was 16 and he was 15. "He was definitely my first big love," she says in the interview. "The more in love we became, the more dangerous we became for each other. Equally as dangerous, because it was a bit of an obsession."
Rihanna tells the story of a text message from an old girlfriend of Brown's and her anger over his lies. It escalated to violence and "it was ugly," she says. "I feel humiliated. I get angry all over again. Every time I see it the whole thing plays back in my head," Rihanna says about the infamous TMZ photo of her bruised and battered face. "He had no soul in his eyes. Just blank. He was clearly blacked-out. There was no person when I looked at him," she tells Sawyer.
The intense and extensive interview continues through the public apologies — from YouTube to Larry King Live — detailing the couple's attempted reconciliation, break up and beyond. Together, Sawyer and Rihanna watch Brown's stiff online video apology and though the singer claims it is the first time she has seen it, her skepticism is automatic. "He might have been reading off of a teleprompter," she says. "It sounds like he's reading."
In all, the media brouhaha surrounding the relationship and the crime is profoundly sad. Both forwent childhood in favor of fame — a fame they're now struggling to maintain in the aftermath of a controversy far beyond the grasp of their teenage fans. From Diane Sawyer to Larry King, both seem to be pleading for understanding not only of their tempers, violence and victimhood, but also forgiveness for their immaturity and inability to weather the spotlight. Both have upcoming albums due before the year's end.
Below is the first part of Rihanna's 20/20 interview and the rest can be found here.
Have a tip we should know? tips@mediaite.com