Riled Up David Gregory Hammers Wayne LaPierre Over NRA Position On Gun Laws
Riled Up David Gregory Hammers LaPierre Over NRA Position On Gun Laws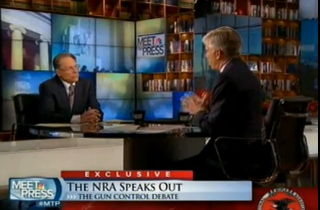 Nine days after the massacre in Newtown, Conn., National Rifle Association CEO Wayne LaPierre made his first official press appearance, taking questions from NBC's David Gregory on Meet the Press.
Gregory began by asking LaPierre about his Friday press conference in which he blamed mental health issues, Hollywood, the video game industry, and the media, but "never once did you concede that guns could actually be a part of the problem." Gregory pointedly asked whether that approach was a "dodge."
"I said what I thought would make a difference," LaPierre responded before explaining that his suggestion to arm security personnel in schools is ready to go and would make a difference today.
Gregory pushed back that LaPierre seems to refuse to acknowledge guns had any role in the tragedy.
"I know there's a media machine in this country that wants to blame guns every time something happens, I know there's an anti-Second Amendment industry in this country," LaPierre shot back. "I'm telling you what I think will make people safe."
The NBC moderator then confronted LaPierre with several newspaper reactions to the press conference, headlines which called LaPierre "crazy" and a "gun nut." The NRA CEO was unfazed: "If it's crazy to call for putting armed police in our schools to protect our children, then call me crazy," he replied.
"You don't think guns should be a part of the conversation?" Gregory pressed again.
LaPierre responded that you could do what Sen. Dianne Feinstein wishes and ban all high-capacity magazines, but "it's not going to make any kids safer." He also added that he got supportive emails from gun owners saying they went to bed safer knowing they had a gun at their side.
"A feeling is not a fact," Gregory interjected. "That's a reassurance, not evidence."
The two then went head-to-head over LaPierre's proposal to arm security guards in schools, noting that the policy has "failed" in the past, as in the 1999 Columbine High School massacre. The NRA head claimed that the Columbine security forces were told not to go into the school, despite exchanging fire — but they waited for SWAT to show up to enter the building.
An unconvinced Gregory asked LaPierre how the program would work and how many officers he envisions on each campus. LaPierre responded that he'd prefer that police forces figure that out, because they already know how to protect politicians, the media, and office buildings.
After pressing LaPierre further on why he is unwilling to concede gun control measures as one part of the potential solution, the NRA leader responded that "you can't legislate morality … legislation works on the law-abiding, it doesn't work on criminals."
"If it's possible to reduce the loss of life, you're willing to try [gun control]?" Gregory repeatedly asked before holding up a high-capacity magazine of ammunition. "Isn't it possible that if we got rid of these … isn't it just possible that we could reduce the carnage in a situation like New Haven?" Gregory pushed.
"I don't think that's going to make one difference," LaPierre answered. "There are so many ways to evade that." Unconvinced, Gregory hammered LaPierre over his evasiveness on the subject, demanding to know whether he'd be willing to try such restrictions if, by his own logic, it could possibly save more lives.
"I don't buy your argument one bit," LaPierre said. The two then went back-and-forth over whether previous mass shootings give credence to the need for regulating high-capacity magazines.
Asked to name one gun regulation he'd support, LaPierre said he'd want to prosecute drug dealers possessing guns, and go after felons possessing firearms. Gregory shot back that the NRA head was simply calling to prosecute criminals, but he wanted to know if there are any specific gun regulations he'd support. Without directly answering the question, LaPierre's response boiled down to "No."
Watch the entire interview below, via NBC:

— —
>> Follow Andrew Kirell (@AndrewKirell) on Twitter
Have a tip we should know? tips@mediaite.com