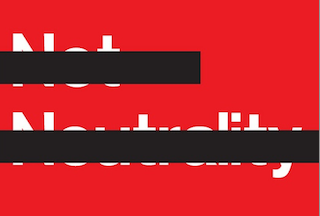 To paraphrase Mark Twain, reports of net neutrality's death have been greatly exaggerated in the past. But this time, it may actually be true.
The New York Times is reporting that the Federal Communications Commission is proposing new rules that would allow internet service providers to charge large content providers to faster access to users, effectively killing the existing system that ensured equality for all. The move is a reversal for the FCC, which previously aimed to keep net neutrality in place even after a federal appeals court ruled in January that internet providers were allowed to make preferential service deals with large companies like Netflix and Amazon.
That ruling led to a landmark deal in which Netflix agreed to pay Comcast and undisclosed yearly sum for faster access to the company's internet subscribers. With Comcast set to takeover Time Warner Cable barring what looks to be an unlikely move to stop the action by Congress, the mega-provider will gain even more influence and ability to demand fees from media companies.
Smaller companies that can't afford to pay, may suffer because of it. And larger ones that have to pay for access will likely pass those costs on to customers. Just yesterday, Netflix announced it would be raising prices in the near future. Not surprisingly, in the same memo to shareholders, Netflix came out in opposition to the Comcast-Time Warner Cable merger.
Chairman Tom Wheeler will reportedly present the new rules to his fellow commissioners this week and they will vote on them at the group's May 15th meeting. Without the FCC standing on the side of net neutrality, there will be no one left to fight for its survival.
One member of Congress who has consistently stood up for the principle of net neutrality is Sen. Al Franken (D-MN). He also happens to be the most outspoken lawmaker against the Comcast-Time Warner Cable deal. Here he is all the way back in 2010 explaining why net neutrality is "the First Amendment issue of our time."
Watch video below:
[photo via OpenCongress.org]
— —
>> Follow Matt Wilstein (@TheMattWilstein) on Twitter
Have a tip we should know? tips@mediaite.com